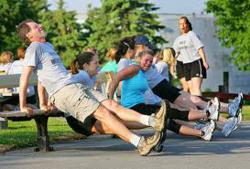 The greater the difficulty the more glory in surmounting it. Skillful pilots gain their reputation from storms and tempests. ~ Epictetus
Chino Hills, CA (PRWEB) February 27, 2012
Fitness boot camp is one of the hottest trends in the nation right now. Boot camps have been featured in popular TV shows like "The Biggest Loser" and "Celebrity Fit Club." Enrollment numbers are up. However, many boot camp operators find that they are working for peanuts, earning less than $30,000 a year. The reason for these surprisingly low salaries is that there is a lack of education when it comes to boot camp marketing, says industry expert Sam Bakhtiar.
Sam Bakhtiar is a champion bodybuilder, personal trainer, CEO of the Fit Concepts boot camp franchise in Chino Hills, and self-made millionaire who has more than 20 years of industry experience. After years in the trenches, he has started teaching others the art of boot camp marketing through downloadable manuals, business coaching calls, weekend workshops and one-on-one mentorships.
"Graduates leave school with two or four-year degrees and can name you every part of the leg's anatomy, but they haven't a clue about boot camp marketing," explains Sam Bakhtiar. "I had a B.S. in premed and a doctorate in chiropractics, but I started out on the bottom rung of the income ladder with no idea how to get out of the rat race – other than to just work more and more hours. That's a one way ticket to burn-out by the time you reach 30!" Sam adds that the internet can be a confusing matrix of boot camp marketing strategies – some that work and some that don't. To alleviate some of the conclusion, he is sharing his most tested, tried and true marketing methods.
For the month of February, Sam is offering his premium downloadable manual, "Six Figures In 67 Days," FREE of charge at http://www.super-trainer.com. The manual is designed to be a step-by-step blueprint for structuring a boot camp program, creating effective boot camp marketing campaigns, drumming up leads, closing sales, retaining clients and generating referrals. In essence, the blueprint contains everything an aspiring entrepreneur needs to know about automating every day processes and creating a sustainable business in this growing segment of the fitness industry.
Trainer Erik Kristensen, explains what a difference the boot camp marketing manual made in his career, saying: "I was lucky enough to find this manual right after I got certified – and I'm glad I did! What's funny is that I ran into a guy from my certification class who I thought was just brilliant. I assumed he'd be a top-level trainer by now, but he told me he was working at the parks department for $17 an hour! I walked away without saying anything because I'm making $80 an hour following this manual's guidelines – and I've only been a trainer for six months! I can't thank Sam enough for taking my business to the next level."
About Sam Bakhtiar
Sam Bakhtiar is a Persian-born American with over twenty years of experience in fitness training and body building. After completing B.S in Premed and Nutrition, Sam also received a degree of doctorate of Chiropractics. Along with being one of the best fitness trainers, Sam is also a business and marketing expert. After establishing a successful fitness training business with substantial income, Sam is helping other professionals in the industry to achieve their business goals. For more information, please contact using the following information.
Contact Information:
Sam Bakhtiar
Fitness Concepts
909-393-9075
http://www.super-trainer.com
###