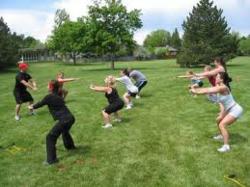 Empty pockets never held anyone back. Only empty heads and empty hearts can do that. ~ Norman Vincent Peale
Chino Hills, CA (PRWEB) March 01, 2012
How does one go from being a personal trainer working for someone else to a boot camp operator working for him or herself? Sam Bakhtiar demystifies the process in a dynamic weekend workshop centered around boot camp marketing principles. More information can be found at http://www.super-trainer.com.
Fresh out of college, many personal trainers find themselves working for a big box gym, teaching group classes for a small hourly wage and hoping to solicit one-on-one training time in the side. For this reason, the average salary for fitness industry professionals ranges from $20,000 - $30,000. This number is far too low and that's because successful career paths are not illuminated for industry professionals, says Boot Camp Marketing Expert Sam Bakhtiar, CEO of Fit Concepts in Chino Hills, California.
"Think of it this way: no one ever questions that surgeons and doctors are worth every cent of their huge salaries because they literally save lives, right?" Sam asks. "Yet, personal trainers are saving many more lives by putting people on track to live healthier, happier lifestyles. My franchise has helped people lose tens of thousands of pounds over the years and reduced people's risk of life-threatening disease. Never doubt your worth. That's the first step toward making your first million in the boot camp marketing industry."
Sam Bakhtiar is organizing a fitness boot camp marketing mastermind event featuring a massive group of millionaires working in personal training, fitness franchise ownership and boot camp operation. "Just being in the presence of these giants will make you feel elated and super positive about taking a new direction in your career," Sam explains. "I've been through school to get my B.S. in premed, my doctorate in chiropractics and my training credentials… and no one can say I didn't learn a lot spending 20 years in the trenches… but, for me, mentoring a millionaire had the biggest impact on my future career path. It was literally a life-changing meeting – and I hope to provide that for everyone who attends my event."
Even though there is plenty of business coaching, mentoring and inspiration, don't think this boot camp marketing event will be all "fluff." Sam Bakhtiar hands out step-by-step guides to replicating his success. He shares his story of training in New York City to the tune of a $20K salary and branching out into multiple revenue streams to grow his empire to over $2.4 Million in annual revenue. His track record of helping individuals succeed at their fitness businesses is nothing short of impressive. Just this month, Sam celebrated his 100th protégé-turned-millionaire, in fact.
The cities, dates and times for Sam's boot camp marketing events vary from month to month, but he invites any interested individuals to contact him directly to sign up for the next millionaire mastermind. In anticipation of the event, trainers may also download the "Six Figures In 67 Days" blueprint at http://www.super-trainer.com.
About Sam Bakhtiar
Sam Bakhtiar is a Persian-born American with over twenty years of experience in fitness training and body building. After completing B.S in Premed and Nutrition, Sam also received a degree of doctorate of Chiropractics. Along with being one of the best fitness trainers, Sam is also a business and marketing expert. After establishing a successful fitness training business with substantial income, Sam is helping other professionals in the industry to achieve their business goals. For more information, please contact using the following information.
Contact Information:
Sam Bakhtiar
Fitness Concepts
909-393-9075
http://www.super-trainer.com
# # #