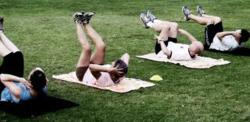 Great things are not done by impulse, but by a series of small things brought together. ~ Vincent Van Gogh
Chino Hills, CA (PRWEB) March 02, 2012
Fitness industry professionals know they need to have a web presence to be successful. However, they may not know how to create a lead capture magnet or how to maximize those new leads. These are some of the topics that personal training certification schools fail to teach, but that Boot Camp Marketing Expert Sam Bakhtiar focuses on with his ongoing educational opportunities.
Graduates of Sam Bakhtiar's boot camp marketing program have seen tremendous results by implementing some of the marketing techniques, methods, strategies and ideologies Sam presented in his step-by-step blueprint "Six-Figures In 67 Days" and at his dynamic weekend workshops. This month Sam celebrated the announcement of his 100th protégé-turned-millionaire! Trainer Craig Kastning is on track to make his first million dollars this June after mentoring with Sam and Jeff Sherman made $4,000 more in profits after implementing just a few of Sam's secrets his first month back to work."Sam gave us the systems we needed to put our businesses on autopilot," explained Sherman.
"Six-Figures In 67 Days," a premium download being offered for free during the month of February, is a boot camp marketing bible that amasses more than 20 years of experience ranging from the streets of New York to the hills of Chino. "I won bodybuilding championships and trained clients for a big box gym for many years," Sam explains. "With a little initiative, I was quickly able to take over entire marketing departments and do more for lead generation."
"Marketing is something I just naturally fell into. I made a lot of mistakes and took the slow pathway to get to my current $2.4 Million annual salary, but I am very passionate about helping other succeed – whether it's to lose 100 pounds through my boot camp workouts or gain a million dollars through my boot camp marketing program."
Sam adds that he makes boot camp marketing very easy by revealing checklists, software recommendations, email templates and step-by-step action plans to show fitness instructors, personal trainers and boot camp operators how to generate leads online and dominate their local markets.
People who are wondering if they'll be interested in receiving one-on-one business coaching with Sam or attending one of his dynamic millionaire mastermind events can get a crash course in boot camp marketing at http://www.super-trainer.com, where there is a free blog full of advice and Sam's premium download "Six-Figures In 67 Days" being offered free of charge for the month of February.
About Sam Bakhtiar
Sam Bakhtiar is a Persian-born American with over twenty years of experience in fitness training and body building. After completing B.S in Premed and Nutrition, Sam also received a degree of doctorate of Chiropractics. Along with being one of the best fitness trainers, Sam is also a business and marketing expert. After establishing a successful fitness training business with substantial income, Sam is helping other professionals in the industry to achieve their business goals. For more information, please contact using the following information.
Contact Information:
Sam Bakhtiar
Fitness Concepts
909-393-9075
http://www.super-trainer.com
# # #