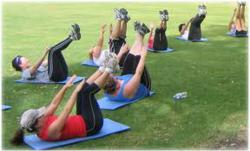 "It is never too late to be what you might have been." - George Eliot
Chino Hills, CA (PRWEB) May 03, 2012
There are many ways to acquire knowledge. Some people read books or attend college courses, while others prefer to grab the bull by the horns and live life. Boot camp operators who want to cut expenses, earn more money, free up time, and learn the industry's "best practices" can take advantage of a unique opportunity offered by Sam Bakhtiar, CEO of the Fitness Concepts boot camp franchise based in Chino Hills, California. This year, he is sharing the step-by-step blueprint for how he made his first million dollars at fun Las Vegas boot camp marketing retreats.
"I don't think people realize, but there are millions and millions of dollars to be made in this industry – without charging hundreds of dollars an hour," Sam explains. "It all begins with a boot camp that blows the competition out of the water. Then you need to know the systems to put in place that will convert many of the time-consuming operating processes to autopilot so you can focus on training and converting more leads into paid-in-full clients." He adds that boot camp marketing isn't rocket science, but there are many costly mistakes to avoid – especially in one's first year.
Dave Peterson was one of the latest attendees to last week's boot camp marketing event in Las Vegas. "Where else can you ride ATVs through the desert and network with the sharpest minds in the industry?" he asks. "We learned to build our businesses around our ideal lifestyles, which is something you just can't learn in a classroom," Peterson adds. He said he arrived at the Las Vegas mansion thinking he would ask about how to set up a franchise system and expand to multiple locations. Yet, he left feeling as though he could meet his goals just by focusing on making suggested improvements to his core business. "I learned that staying small is sometimes the path to success – not just in business, but in life too."
Sam Bakhtiar's renowned boot camp marketing events are unlike any other in the industry. Participants stay in a luxurious Las Vegas mansion and enjoy gourmet eats and drinks during the duration of the program. In between mastermind meetings, one-on-one coaching sessions, and group lectures, the fitness professionals are treated to ATV rides through the desert and given free time to swim, play sports, or hike. "In the company of giants, it's hard not to rise to the task ahead of you. There is nothing more transformative," Sam explains. "I'll never forget meeting my first fitness industry millionaire. It was like the whole world opened up before me. I realized it was not only possible, but it was within my grasp if I listened to the advice being given to me."
Visit http://www.Super-Trainer.com to sign up for one of these once-in-a-lifetime boot camp marketing retreats.
About Sam Bakhtiar
Sam Bakhtiar is a Persian-born American with over twenty years of experience in fitness training and body building. After completing B.S in Premed and Nutrition, Sam also received a degree of doctorate of Chiropractics. Along with being one of the best fitness trainers, Sam is also a business and marketing expert. After establishing a successful fitness training business with substantial income, Sam is helping other professionals in the industry to achieve their business goals. For more information, please contact using the following information.
Contact Information:
Sam Bakhtiar
Fitness Concepts
909-393-9075
http://www.super-trainer.com