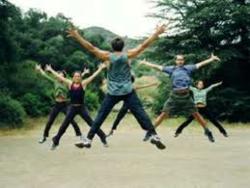 "Great minds discuss ideas. Average minds discuss events. Small minds discuss people." - Eleanor Roosevelt
Chino Hills, CA (PRWEB) May 07, 2012
Many fitness professionals are seduced into owning franchise businesses because they like the idea of receiving a step-by-step blueprint for success. However, they soon find that they are not as "in control" as they'd like and the business never really feels like "their own." Boot Camp Marketing Expert / 20-Year Industry Veteran "7Figure" Sam Bakhtiar is offering a new educational experience to help new boot camp operators run their own show, without joining a franchise.
Sam Bakhtiar thrives off interactions with industry professionals who are hungry for boot camp marketing knowledge and want to take the next step in their careers. "I have a soft spot for people who are in their first five years of owning a fitness studio or boot camp because I remember how hard it was," Sam recalls. "I wasted a lot of money in those early months and my quality of life suffered because I was working so many hours without a clear plan of attack. I was being thrown around in the washing machine of life until I found a mentor and received some concrete guidance. Now I'm offering that same blueprint to others."
The Super Trainer Blueprint for boot camp marketing includes the following topics:

The Psychology of Selling Fitness / KPIs / Strategic Business Growth (Sam Bakhtiar)
The Four Pillars of Fitness Business Success (Pat Rigsby)
Awaken The Guru Within (Dax Moy)
How To Be An Ethical Media Whore (John Spencer Ellis)
Why Branding Is A Must If You Want To Stand Out (Rocco Castellano)
Making The Case For Corporate Fitness (Greg Justice)
The Fortune Is In The Follow-Up (Armando Cruz)
What Works In 2012 To Get New Training Clients From The Internet (Chris McCombs)
Advanced Fitness Business Delegation, Outsourcing & The Cloud (Brian Devlin)
The Road Map To Success (Erik Rokeach)
Appreciation Marketing & Relationship Domination (Carrie & Alicia)
How To Build A Marketing Moat Around Your Fitness Business (Neil Venketramen)
Super Sneaky Marketing Tips & Tricks (Curtis Mock)
How To Use The Power of Facebook To Build A Massive List On Autopilot (Scott Boulch)
Customer Journey From Beginning To End (Christian Aguirre)
How To Get A Piece of the Facebook Pie (Josh Carter)
Not only will boot camp marketing program participants get a full day of masterminding with these industry experts, but they will also receive step-by-step blueprints to take home with them and one-hour conference calls with each speaker to talk about the specifics of their individual businesses.
The reception of Sam Bakhtiar's boot camp marketing events has been phenomenal! Attendees have called it "game-changing," "the single-most content-rich event ever attended," "incredible," "next-level," "top-notch," "heavy-hitting," "informative," "priceless," and even "life-changing." For more information on this unique program, visit http://www.Super-Trainer.com to find out how you can get started for a $1 30-day trial!
About Sam Bakhtiar
Sam Bakhtiar is a Persian-born American with over twenty years of experience in fitness training and body building. After completing B.S in Premed and Nutrition, Sam also received a degree of doctorate of Chiropractics. Along with being one of the best fitness trainers, Sam is also a business and marketing expert. After establishing a successful fitness training business with substantial income, Sam is helping other professionals in the industry to achieve their business goals. For more information, please contact using the following information.
Contact Information:
Sam Bakhtiar
Fitness Concepts
909-393-9075
http://www.super-trainer.com