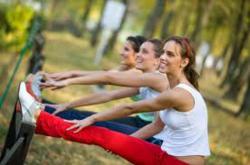 "If opportunity doesn't knock, build a door." - Milton Berle
Chino Hills, CA (PRWEB) May 08, 2012
Every fitness industry millionaire has one thing in common: a chance encounter with someone who transformed their lives. Fitness Concepts Boot Camp Owner Sam Bakhtiar wants to make this meeting of minds easier for boot camp operators by hosting a one-of-a-kind weekend retreat with 12 unforgettable speakers presenting on topics from boot camp marketing with Facebook and outsourcing to relationship marketing for better retention and branding.
Over the years, Sam Bakhtiar has developed a cult-like following of people who are inspired by his no-pitch, no-nonsense approach to boot camp marketing. He delivers the same step-by-step blueprint he used to earn his first millions in the fitness industry and provides event participants with content they can use. To date, he has coached over 100 fitness professionals to earning seven-figure salaries.
"I've never experienced anything like the weekend with Sam. It was life-changing!" says boot camp marketing program participant Michael Salvietti. "I liked how it was a mastermind, where everyone in the room added value to each presentation. It was the best fitness event I've ever been to."
Kirk Huggins Rogers was another boot camp marketing event attendee. "After spending $500 for a last-minute plane ticket, $300 for a three-night hotel stay, $14 for a rental car, $997 for the event ticket and $500 on miscellaneous vacation expenses, I have to say… this event was PRICELESS!" he said. "I filled out two entire yellow notepads, I have 24 hours of audio recordings, and I had the most amazing time chillaxin' and mastermindin' with the most awesome people in the industry."
"I felt HIGH after this weekend event," admits attendee Leanne Ellington. "From the people, the content, the good vibes that filled that packed room... to the list of action steps I flew home with… I want to click my ruby slippers together three times to bring me back there again!"
To get a taste of what will be offered at this exclusive boot camp marketing event, fitness entrepreneurs can sign up for a 30-day trial of Sam's Super Trainer Blueprint program for $1. This trial includes informative videos from the presenters, a step-by-step action plan, and downloadable PDFs. After that, fitness pros can elect to attend the mastermind event and keep learning or simply end their trial. " If you apply just one tip that is available in these videos and apply it to your business you're investment will be repaid many times over," says program participant Damien Maher.
Visit http://www.Super-Trainer.com and click on "Fitness Marketing Resources" for more information on the Super Trainer Blueprint mastermind event and $1 trial program.
About Sam Bakhtiar
Sam Bakhtiar is a Persian-born American with over twenty years of experience in fitness training and body building. After completing B.S in Premed and Nutrition, Sam also received a degree of doctorate of Chiropractics. Along with being one of the best fitness trainers, Sam is also a business and marketing expert. After establishing a successful fitness training business with substantial income, Sam is helping other professionals in the industry to achieve their business goals. For more information, please contact using the following information.
Contact Information:
Sam Bakhtiar
Fitness Concepts
909-393-9075
http://www.super-trainer.com