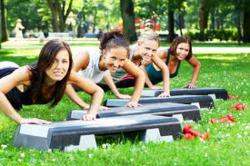 "I haven't failed. I've just found 10,000 ways that won't work." - Thomas Edison
Chino Hills, CA (PRWEB) May 09, 2012
There are many boot camp marketing gurus and programs out there, but as they say, "The proof is in the pudding." Twenty-year industry veteran Sam Bakhtiar of the Fitness Concepts franchise in Chino Hills, California is showing personal trainers how to break away from Big Box chains and start their own enterprises. For a limited time, his comprehensive set of training manuals, goal-setting journals and DVDs are being offered for just $7 at http://www.Super-Trainer.com (by clicking on "Fitness Marketing Resources" and "Dump The Gym.")
One of the latest success stories from Sam Bakhtiar's boot camp marketing programs comes from the small town of Troy, Alabama. William "CC" Matthews was making less than $20/hour at a big box gym, but found he was spending vast amounts of unpaid time trying to drum up new prospects and attract new business. So, he took a chance and ventured out on his own to run a small boot camp studio. While he bumped his hourly rate up to $30 an hour, he found he was spinning his wheels to do it all himself and increase his earnings.
When CC Matthews joined Sam Bakhtiar's boot camp marketing system, he learned how to hire employees and delegate tasks. He learned how to charge more competitive rates and expand his studio to double in size. He added boot camp training services and reduced the number of hours he trains clients without sacrificing income. In less than a year, CC more than doubled his earnings in less than one year!
Another boot camp marketing client, Travis Tsoetzel, was so burnt out on personal training that he contemplated switching to the construction industry. He was putting in 14 hours a day and earning less than minimum wage. As a last-ditch effort, he signed up for the step-by-step boot camp marketing blueprint – and less than a year later, he owned his own studio that generates several hundred thousand dollars each year.
"This course gave me confidence that my training business can keep getting better and better," Travis says. "I only end up working about four hours training and the rest of the week I spend enjoying the fruits of my labor. This program helped me pick my own specialty, rather than being a cookie-cutter trainer. This was such an unbelievable investment for me!"
For just $7, boot camp marketing understudies will receive the New Six-Figure Training Manual (which once sold for $297!) Inside the manual, they'll find:

The six-figure selling system to improve closing techniques
The six-figure marketing report to deliver the tools necessary to keep leads coming
The six-figure website formula to create a top-notch website
The super-trainer system to delegate some responsibility to employees
The art of specializing to attract the most desirable clients
Advice on how to set up the most effective training program, design sessions and track progress
Branding tips on how to create an image of success that clients are willing to invest in
Direction on creating the fitness lifestyle that is most desired
"In this boot camp marketing program, you'll learn over 100 career-making strategies and how to put most of your business on autopilot," says Sam Bakhtiar. "If you're already passionate about fitness, you'll find that making six-figures and more is surprisingly easy. This is the course to make it happen for you."
About Sam Bakhtiar
Sam Bakhtiar is a Persian-born American with over twenty years of experience in fitness training and body building. After completing B.S in Premed and Nutrition, Sam also received a degree of doctorate of Chiropractics. Along with being one of the best fitness trainers, Sam is also a business and marketing expert. After establishing a successful fitness training business with substantial income, Sam is helping other professionals in the industry to achieve their business goals. For more information, please contact using the following information.
Contact Information:
Sam Bakhtiar
Fitness Concepts
909-393-9075
http://www.super-trainer.com