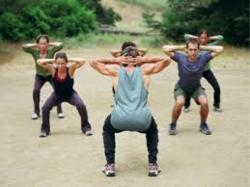 "Even if you're on the right track, you'll get run over if you just sit there." - Will Rogers
Chino Hills, CA (PRWEB) May 11, 2012
As Congress debates over extending low interest rates on student loans, one can't help but feel that Americans are being horribly duped. "College degrees offer no guarantee of financial security these days," says Sam Bakhtiar, owner of the Fitness Concepts franchise and boot camp marketing expert.
Sam values all the years he spent in school, achieving his B.S. in Premed and Nutrition, as well as his Doctorate of Chiropractics, but he says the most valuable learning experiences took place outside of school. "A piece of paper won't gain you access to wealth and happiness in life," he adds. "You need to spend time cultivating your intellectual, social, financial and personal capital for true prosperity."
Sam defines these concepts further by explaining: "Intellectual capital is what you know – like what you've learned in school that you can speak comfortably about. You can invest in this area by taking certification courses, participating in boot camp marketing webinars, going to conferences, and taking business classes." Formal education is a good start, he says, but there is much more to learning than college alone.
"Social capital involves who you know. You've heard it before – that nothing beats networking – and that is certainly true in the world of boot camp marketing. You should look to meet people who are better than you and earning more money than you because it will help you learn more and strive to be better. Keep ties open by making quick calls, sending out emails, and attending mastermind events as often as possible."
Financial capital refers to how a person connects with others who are willing to invest in his or her expertise. "Many people get into boot camp marketing and ownership because it doesn't have a lot of start-up costs, but if you want to access greater capital and climb the income ladder, then you need to find your set of angel investors who will help you expand your business," Sam explains.
"Personal capital involves understanding your strengths, weaknesses and passions. Before you begin your boot camp marketing, you should know where your specialties lie, so you can differentiate your service." To cultivate this form of capital, Sam recommends attending workshops, seeking mentorships, reading books, and signing up for business coaching.
More information on Sam's educational opportunities in boot camp marketing can be found at http://www.Super-Trainer.com, an education website focused on helping new entrepreneurs succeed in the fitness industry.
About Sam Bakhtiar
Sam Bakhtiar is a Persian-born American with over twenty years of experience in fitness training and body building. After completing B.S in Premed and Nutrition, Sam also received a degree of doctorate of Chiropractics. Along with being one of the best fitness trainers, Sam is also a business and marketing expert. After establishing a successful fitness training business with substantial income, Sam is helping other professionals in the industry to achieve their business goals. For more information, please contact using the following information.
Contact Information:
Sam Bakhtiar
Fitness Concepts
909-393-9075
http://www.super-trainer.com