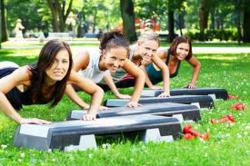 Not everything that can be counted counts, and not everything that counts can be counted. - Albert Einstein
Chino Hills, CA (PRWEB) July 09, 2012
Boot camp marketing is now part of a $50 Billion industry. The American Council on Exercise listed fitness boot camps as one of the "Top 10 Fitness Trends" for 2012. While there is much money to be made, there is also a lot at stake. If the market becomes oversaturated by amateurs who do not know a thing about boot camp marketing, the industry could end up with low-quality boot camps that tarnish the reputation for all. After more than 20 years successfully running boot camps from coast to coast, Boot Camp Marketing Expert "7-Figure" Sam Bakhtiar is offering a free test-drive of his fitness business mentorship program at http://www.Super-Trainer.com.
"At one time, all you had to do was say that you offered a 'fitness boot camp' and that was enough to get people through the door. Nowadays, there is much more competition, so you'll see business owners start to get desperate," Sam explains. "How many studios can be 'The #1 Boot Camp' in a particular market? Why are people saying they can help clients lose 20 pounds in one week when we all know that is impossible? Who voted you 'The Top Boot Camp In Chino Hills?' I've even seen people re-use the same testimonials from other sites! It's clear that there is not enough education in boot camp marketing, which is why I'm offering this special deal."
Fitness business owners can choose the trial method that most appeals to them. They can download a free e-book titled, "Six-Figures In 67 Days," which outlines the core principles of boot camp marketing in an easy step-by-step way that can be applied to any fitness business. Or they may prefer to receive a free business coaching call from Sam Bakhtiar himself – accessible by texting "7FIGURES" to 77453. The coaching call is a great way to get feedback on one's business and have any questions about the industry answered, Sam says. The Super-Trainer website also contains many pages of free blogs to help fitness business owners get acquainted with Sam's personality and ideas to see if they would like to pursue a more in-depth mentoring program with him.
"Over the years, the most important lesson I've learned is that the best investment you can make is in yourself. Ongoing boot camp marketing education will help you save $3,000 in overhead expenses this month alone. It'll double your revenue within six months. These are real-world results." Sam's free trial is a summer special to open more fitness business owners to the idea that networking and mentoring is the fastest way to reach success in the industry.
Sam's program shows fitness boot camp owners how to structure a value-oriented program that breeds loyalty. He also covers the industry's best boot camp marketing practices where time is best spent. He offers an easy step-by-step method for putting many business practices on autopilot, opens up access to his network of professional contacts, and coaches business owners every step of the way to ensure follow-through.
Boot camp marketing program graduate Craig Kastning earned his first million dollars after mentoring Sam. "I have been in the business for 13 years, but it was the mentorship with Sam that really changed my life," he explains. "I no longer feel like I'm working a job. I spend all my time doing what I love now that all the time-draining tasks are put on autopilot. Sam is absolutely brilliant!"
About Sam Bakhtiar
Sam Bakhtiar is a Persian-born American with over twenty years of experience in fitness training and body building. After completing B.S in Premed and Nutrition, Sam also received a degree of doctorate of Chiropractics. Along with being one of the best fitness trainers, Sam is also a business and marketing expert. After establishing a successful fitness training business with substantial income, Sam is helping other professionals in the industry to achieve their business goals. For more information, please contact using the following information.
Contact Information:
Sam Bakhtiar
Fitness Concepts
909-393-9075
http://www.super-trainer.com