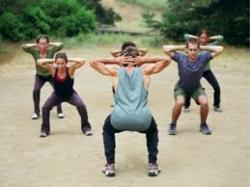 The trouble with not having a goal is that you can spend your life running up and down the field and never score. - Bill Copeland
Chino Hills, CA (PRWEB) July 30, 2012
The first two years of running a new boot camp are challenging. In fact, 3 out of 5 small business owners will fail within their first 5 years. It's not due to lack of passion, but rather, lacking the basic business knowledge and boot camp marketing systems to keep costs relatively low while growing a steady base of clients. Often, boot camp owners find themselves working 50-60 hours a week and yet, they still cannot break the six-figure revenue barrier.
"I am blessed to have tremendous success in the fitness industry," explains Sam Bakhtiar, a 20-year veteran of the fitness industry, boot camp owner and multi-millionaire boot camp marketing mentor. "I enjoy my life and free time. My wife doesn't have to stress about money. My daughter doesn't have to attend day care. I own a beautiful 5,100 square foot home in Corona and another vacation mansion in Las Vegas. I have a Ferrari and a Corvette in the garage. I have all this because I'm hard-working, dedicated and always striving to better myself."
Investing in oneself is the key to growing business revenues, Sam explains. At one time, he was also working 9 hour shifts, 7 days a week. He had no systems in place and felt totally burned-out on his business. "I thought I would have all this freedom running my own studio, but I wound up being a slave," says Sam. What changed the tide for this bodybuilding champion was a chance encounter with a group of fitness industry millionaires. Suddenly, the world opened up before him and he saw that their product offerings were not much different than his own. "But these guys had their boot camp marketing systematized in a way that they could leave town for a week and the business would still keep making money in their absence," Sam recalls.
Now Sam Bakhtiar is offering a one-year boot camp marketing mentorship opportunity to individuals who are looking to get out of a rut and make $100,000 or their first million dollars over the next 12 months. The program involves a comprehensive step-by-step business development manual, a dynamic weekend workshop in Las Vegas, and a year of one-on-one business coaching follow-up by phone.
Program graduates have nothing but rave reviews about Sam Bakhtiar's boot camp marketing program. Jamie Sulc made his first million dollars in 12 months. Jeff Sherman was able to cut business expenses by $1,000 and boost his monthly revenue by $5,000 in his first few months of mentoring -- using just two ideas from Sam's training course. Chris Aguirre said he was able to secure $33,600 paid-n-fulls his first month back using one simple technique Sam taught him; he also re-activated over 50 past clients and created 5 different passive income streams. "Sam is the best in the business and the investment to join his boot camp marketing mastermind was the best decision I could have made!" says program graduate Craig Kastning.
One can visit http://www.Super-Trainer.com for more information can be found about this boot camp marketing educational opportunity.
About Sam Bakhtiar
Sam Bakhtiar is a Persian-born American with over twenty years of experience in fitness training and body building. After completing B.S in Premed and Nutrition, Sam also received a degree of doctorate of Chiropractics. Along with being one of the best fitness trainers, Sam is also a business and marketing expert. After establishing a successful fitness training business with substantial income, Sam is helping other professionals in the industry to achieve their business goals. For more information, please contact using the following information.
Contact Information:
Sam Bakhtiar
Fitness Concepts
909-393-9075
http://www.super-trainer.com