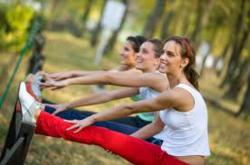 The man who removes a mountain begins by carrying away small stones. - Chinese Proverb
Chino Hills, CA (PRWEB) August 27, 2012
Fit Concepts' CEO Sam Bakhtiar is famous for his successful boot camp marketing. His recently launched blog at http://www.super-trainer.com is extremely popular; his marketing emails have an amazing open rate, and much of his content gets shared and forwarded by enthusiastic readers. Many people have asked him just how he manages to captivate people and sustain interest in his business 365 days a year. Today he shares his secrets with other boot camp marketers.
"The answer is simple... I make them laugh," Sam explains. "You have to remember, we are the select few who get to pursue our passions in life through our work. So many of our clients are working jobs they don't care for and are sacrificing their own happiness to provide for their families. Some days are pure drudgery for them. So, to receive an email from me that brings a smile to their faces and makes them laugh is something special, something memorable, something worth forwarding to others."
This boot camp marketing advice may seem easier said than done, so Sam shares five ways fitness entrepreneurs can make people laugh:
1. Trainers can share funny stories from life.
Sam explains: "We all have those weird relatives, those vacations-gone-wrong, and crazy experiences along life's trajectory that are worth sharing."
2. Trainers can use anecdotes to issue a lesson.
Sam explains: "There are many common sayings that can pertain to life in a funny way. Conventional wisdom like 'Don't bite off more than you can chew,' or 'Look before you leap' can have both literal and figurative meanings, which makes for a witty tale if you can combine the two."
3. Trainers can follow the rule of threes.
Sam explains: "Comedy Professor Melvin Helitzer says you can think of a list of three as a firecracker on the way to a big blast. He once told the joke, 'My wife's an angel: she's constantly up in the air, continually harping on something, and never has anything to wear.'"
4. Trainers can make themselves the target.
Sam explains: "If you pick on weaker people in your boot camp marketing then you will come off as a bully. Instead, the funniest comedians pick apart themselves and wow people with their introspection and positive outlook on life."
5. Trainers can better know their audiences.
Sam explains: "Chevron Corp once had to pay $2.2 Million in damages when some of the men began circulating the email '25 Reasons Why Beer Is Better Than Women.' Crude and stereotypical jokes may appeal to some, but it's better that you remain tasteful and appeal to all and protect yourself from a lawsuit."
Boot camp marketing professionals are invited to contact Sam Bakhtiar directly for more ideas on how they can fine-tune their email marketing. When executed properly, email marketing material should be invaluable for retention and extremely effective at sealing additional sales.
About Sam Bakhtiar
Sam Bakhtiar is a Persian-born American with over twenty years of experience in fitness training and body building. After completing B.S in Premed and Nutrition, Sam also received a degree of doctorate of Chiropractics. Along with being one of the best fitness trainers, Sam is also a business and marketing expert. After establishing a successful fitness training business with substantial income, Sam is helping other professionals in the industry to achieve their business goals. For more information, please contact using the following information.
Contact Information:
Sam Bakhtiar
Fitness Concepts
909-393-9075
http://www.super-trainer.com