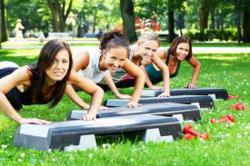 The best way to predict the future is to create it. - Abraham Lincoln
Chino Hills, CA (PRWEB) August 29, 2012
Boot camp marketing is not just about human billboards, web design, YouTube, and Facebook. It's more than referral cards, Groupon deals, mobile messaging, and event sponsorship. "At the end of the day, it's about delivering a valuable product and unbeatable customer service," explains Fitness Concepts CEO and fitness expert, Sam Bakhtiar.
He explains, "When most personal trainers join a franchise or attend a boot camp marketing seminar, they hear a lot of the same BS. It's all about this method or that method. It's about having energy and relentless marketing. What they don't tell you is that you can market all day long, but if your product doesn't contain the value, you will spend the rest of your life marketing to a revolving door of clients."
Now, Sam Bakhtiar's revised boot camp marketing offer differs in that he focuses on program offerings, customer service and time management techniques. He shows business owners how to reduce their stress, hire better help, and improve day-to-day processes that affect customer service. With more than 20 years of experience running a small boot camp franchise and training clients, Sam is uniquely qualified to coach new entrepreneurs -- helping them avoid many of the mistakes he made early in his career.
"It's easy to become obsessed with marketing and lose sight of what's unfolding. It's easy to grow too much, too fast – to the point that your clients start defecting to other clubs," Sam warns. "We're at a point now where my clubs have had many of the same clients for a decade now. They come here because we're family. We've created that atmosphere here."
"Our boot campers know they can't just go to a club down the street and get group luncheons, grocery store tours, a winning 5-K race team, informative nutrition seminars, and weekend biking trips. They know that the CEO of Bally's Fitness wouldn't call them on their birthdays or send them 'Happy Anniversary' cards," Sam continues. "Essentially, I want to show business owners how to manage their day-to-day lives to make room for stellar service and exceeding expectations."
Sam's new blog, http://www.Super-Trainer.com, offers loads of free advice about how to create a special "family-like" atmosphere at one's boot camp. He also talks about developing a business strategy, methods that have or have not worked over the years, and how to create more effective marketing materials. Dozens of successful fitness business owners in Sam's network also regularly contribute guest posts, so the blog is not just one man's voice but an industry collective. In addition to his blog advice, Sam offers one-on-one coaching, but the blog is an excellent starting point for entrepreneurs who want more from their businesses.
About Sam Bakhtiar
Sam Bakhtiar is a Persian-born American with over twenty years of experience in fitness training and body building. After completing B.S in Premed and Nutrition, Sam also received a degree of doctorate of Chiropractics. Along with being one of the best fitness trainers, Sam is also a business and marketing expert. After establishing a successful fitness training business with substantial income, Sam is helping other professionals in the industry to achieve their business goals. For more information, please contact using the following information.
Contact Information:
Sam Bakhtiar
Fitness Concepts
909-393-9075
http://www.super-trainer.com