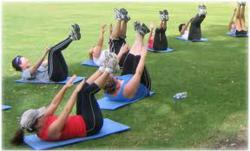 "Vision without action is daydream. Action without vision is nightmare," Japanese Proverb
Chino Hills, CA (PRWEB) September 17, 2012
Sam Bakhtiar is the CEO of the Fitness Concepts boot camps in Chino Hills, California and has been working in the field for more than 20 years now. In addition to training clients to reach their fitness goals, he also trains fitness instructors and fellow boot camp owners to reach their business goals. He runs boot camp marketing seminars and coaching programs designed to help others avoid common mistakes small business owners make.
"Getting started running my business, I had a B.S. in pre-med and nutrition and my Doctorate of Chiropractics. But many of my most valuable learning experiences have happened in the field," Sam explains. "Hindsight is 20/20. I wish I would've known back then what I know now. Mistakes can be costly, especially in your early years when every dollar counts. That's why I'm sharing my experiences with others."
The most common mistake, he says, is that people grossly underestimate what potential clients will pay for training services. "The difference between the guy making $20 an hour and the guy making $100 an hour is his own confidence and perception," Sam explains. "You've got to understand that you're providing a life-changing experience that is just as important in terms of overall health as what a doctor provides. Price testing should be part of your business model."
Other common mistakes include:

Arbitrarily deciding upon programs, without doing market research.
Getting into the business just to make money off this "hot trend."
Failing to include testimonials on sales pages and in sales letters.
Not testing and tracking all boot camp marketing efforts.
Trying to run the entire business solo, rather than delegating and conscripting trusted helpers.
Failing to present a truly irresistible, "must-have" offer.
Assuming that clients will tolerate poor customer service.
Presuming that a good program draws clients – rather than relationship building.
"I'm by no means perfect," Sam admits. "But if I can pass on these nine boot camp marketing lessons, then I think a lot of people can save a ton of time, money, and grief. In my early years, I was burning the candle at both ends and ran out of time for my family and myself. Now my whole business is systematized and works to make me money 24/7, even as I sleep."
He adds that individuals interested in learning the ropes of boot camp marketing from him directly can choose several different ways to learn. He offers downloadable reports, videos, weekend getaways in Las Vegas, business coaching by phone, and full-service marketing through his team of professionals. Fitness industry players can text "7FIGURES" to 77453 for a free 15-minute business coaching call to determine which customized educational opportunities are best for a particular individual. More information can also be found at http://www.Super-Trainer.com.
About Sam Bakhtiar
Sam Bakhtiar is a Persian-born American with over twenty years of experience in fitness training and body building. After completing B.S in Premed and Nutrition, Sam also received a degree of doctorate of Chiropractics. Along with being one of the best fitness trainers, Sam is also a business and marketing expert. After establishing a successful fitness training business with substantial income, Sam is helping other professionals in the industry to achieve their business goals. For more information, please contact using the following information.
Contact Information:
Sam Bakhtiar
Fitness Concepts
909-393-9075
http://www.super-trainer.com