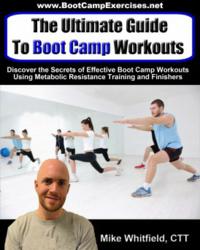 Atlanta, Georgia (PRWEB) September 28, 2012
Mike Whitfield has just released a free manual called, "The Ultimate Guide to Bootcamp Workouts" and it covers the hottest trend of using metabolic resistance training with bootcamp workouts.
"Unfortunately, there is a lot of misunderstanding of what exactly is metabolic resistance training", says Whitfield. He went on to say, "Metabolic resistance training is using big, compound movements with incomplete recovery periods. Some people misunderstand that and do bicep curls and crunches, but that is certainly not MRT. It's a very challenging technique that certainly works when done right. I've had clients lose as much as 70 pounds using this style of training, and I've also used this method to not only shed 105 pounds myself, but more importantly, I've kept it off."
In Whitfield's free guide, he explains how to use this unique approach in a bootcamp setting. "Using MRT can be quite a challenge in a bootcamp setting without fancy equipment", said Whitfield. He also said, "That's why I put this manual together for not only bootcamp trainers and coaches, but for anyone who wishes to use this amazing and effective technique themselves without a bunch of unnecessary equipment.
I've held metabolic resistance training bootcamps in the rear parking lot behind my gym in the past, as well as in an open gym with no equipment at my local high school. It can be done. You just have to get creative."
According to Whitfield, The Ultimate Guide to Bootcamp Workouts explains the theory behind metabolic resistance training as well as a done-for-you program with minimum equipment. He also explains how to use unique metabolic workout finishers at the end of each workout.
"Finishers are my favorite part of the workout. They replace boring cardio and really challenge your campers. I explain how I set them up in the manual", said Whitfield.
You can get his free manual, "The Ultimate Guide to Bootcamp Workouts" and find out more of how to set up your metabolic resistance training workouts with minimum equipment by visiting this URL http://www.bootcampexercises.net/ultimate-guide-to-bootcamp-workouts/