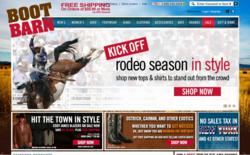 We made a significant commitment and investment in our ecommerce initiatives in 2010 and our decision to work with Demandware is seriously paying off for us and helping us lay the groundwork for future growth.
Burlington, MA (Vocus/PRWEB) March 02, 2011
Demandware, Inc., a global leader in on-demand ecommerce, today announced that Boot Barn, the largest western wear retailer in the world, has relaunched its ecommerce site, BootBarn.com, on the Demandware® Commerce platform. Launched in September, the new site kicked into high gear with a large boost in online sales during the 2010 holiday season and has continued its strong momentum into 2011.
Replacing its legacy in-house platform, Boot Barn selected Demandware Commerce because of its ability to scale to support the company's growth and the powerful merchandising functionality that makes it easy to keep up with its dynamic marketing campaigns. Advanced capabilities such as Active Merchandising® allow Boot Barn merchants to control all online merchandising interactions across search, personalization, analytics, promotions and catalog with a single, task-based user interface.
In addition, Demandware's on-demand model alleviates the technical burden of managing the IT infrastructure, allowing Boot Barn to focus its resources on running its ecommerce business and providing an exceptional shopping experience to customers.
"The footwear and apparel business is highly competitive so we needed to upgrade our older ecommerce site to one that could help us compete at a world-class level," said Patrick Meany, CEO of Boot Barn. "We made a significant commitment and investment in our ecommerce initiatives in 2010 and our decision to work with Demandware is seriously paying off for us and helping us lay the groundwork for future growth."
Demandware Solution Partner, Acquity Group guided Boot Barn through the implementation process from planning to operational integration. Acquity was also responsible for the overall digital rebranding and redesign of the BootBarn.com site which was recently awarded a Best-in-Class Interactive Media Award (IMA) in the "Retail" category.
Boot Barn also took advantage of several pre-built integrations available to them through the Demandware LINK Marketplace, significantly reducing the time and effort required to implement third party technologies such as ratings and reviews, payment processing, address verification, and personalization.
"Boot Barn has built a unique brand based on the values of highest quality products and impeccable service. Like all great brands Boot Barn demanded an ecommerce platform that would help it uphold its brand promise to the online consumer for whom the website is the brand," said Jamus Driscoll, vice president of marketing, Demandware. "We're honored to be a part of Boot Barn's ecommerce success and look forward to helping power the company's continued growth."
Connect With Us!

Twitter – twitter.com/demandware
Facebook – facebook.com/demandware
Demandware Blog - blog.demandware.com/
About Boot Barn
For over 30 years, Boot Barn has been outfitting the west, and has grown into the largest Western Wear retailer in the world. With a service first mentality and the biggest selection of clothing, boots, accessories, tack and more, Boot Barn has grown to over 80 stores across seven states. You can find locations in California, Nevada, Arizona, New Mexico, Wyoming, Colorado and Montana. For more information visit http://www.bootbarn.com.
About Demandware, Inc.
The trusted, global leader in on-demand ecommerce, Demandware revolutionizes how businesses deliver customized shopping experiences to consumers in the digital world. Only Demandware combines the on-demand ecommerce platform rated #1 by industry analysts, an open ecosystem of partners that extend the value of the platform, and measurable commitment by its employees to enabling client revenue growth. Demandware continually sets industry standards for market innovation and client satisfaction. Demandware clients include industry leaders such as Bare Escentuals, Barneys New York, Brooks Sports, Columbia Sportswear, Crocs, Hanover Direct, Jones Apparel Group, Lifetime Brands, Jewelry Television, Neckermann, Panasonic, Reitmans and Theory. For more information about Demandware, visit http://www.demandware.com, call 888-553-9216 or email info(at)demandware(dot)com.
Contacts:
Christine Major
Corporate Communications Manager, Demandware
Phone: 603-743-4534
Email: cmajor(at)demandware(dot)com
# # #