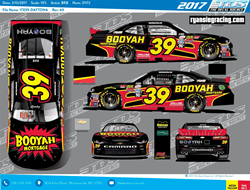 BOOYAH NASCAR!!!
Daytona Beach, FL (PRWEB) February 19, 2017
Booyah Mortgage is pleased to be the primary sponsor for RSS Racing and driver Ryan Sieg are on their No. 39 Chevrolet Camaro for the NASCAR XFINITY Series season-opening race at Daytona (Fla.) International Speedway on Sat., Feb. 25.
When asked how he felt about joining forces with RSS Racing, Shane Johnson, Owner of Booyah Mortgage and Founder of The Booyah Veteran Bus Project, responded with a Big "Booyah !!!" (Click Here To Watch The Video)
Booyah Mortgage is a Veteran owned and operated business in central Florida and marks the company's first foray into Motorsports. Owner Shane Johnson served as a United States Marine and founder of The Booyah Veteran Bus Project and is dedicated to helping other military Veterans.
RSS Racing is a family owed NASCAR Team that is owned by Rod and Pam Sieg. The team has been racing in both the NASCAR Xfinity and Camping World Truck Series since 2008. RSS Racing finished in the Top 20 in the Final Standings in Both 2014 and 2015. In 2015 the Team was the Highest finishing non cup affiliated Team in the Standings. To Date the Team has a Best finish of 3rd recorded at Daytona in July of 2014 and 2016.
Furthermore, the family-owned team will welcome the support of Booyah Productions, Baseball Racks, Midstate Basement, Pro Line Rentals and Crazy Vapors as associate marketing partners sponsors for the 120-lap PowerShares QQQ 300 at Daytona.
Kevin "Cowboy" Starland will lead the No. 39 team for the fourth straight year as crew chief with Industry veteran Mike Ford, who joined the team last season, and will be an active team consultant for all 33 races in 2017.
The PowerShares® QQQ 300 (120 laps / 300 miles) is the first of 33 NASCAR XFINITY Series on the 2017 schedule. Practice begins on Friday, Feb. 24 from 12:30 a.m. – 12:55 p.m. A final session is set for 2:00 p.m. – 2:55 p.m. Qualifying is set for race day, Saturday, Feb. 25 beginning at 10:30 a.m. The 40-car field will take the green flag shortly after 3:30 p.m. with live coverage on FOX Sports 1, the Motor Racing Network (Radio) and SiriusXM NASCAR Radio (Satellite Radio, Channel 90).
About
Booyah Mortgage
250 International Pkwy #134
Lake Mary, FL 32746
(844) 726-6924
At Booyah Mortgage, their mission is: "A 'Veteran'- whether active duty, discharged, retired, or reserve- is someone who, at one point in his life, wrote a blank check made payable to 'The United States of America,' for an amount of, 'up to, and including his life.' That is honor. And there are way too many people in this country today, who no longer understand that fact. Our mission is to ensure that we give back to those who wrote that check." For more information on Boohah Mortgage please visit http://www.booyahmortgage.com/ or call them at 1-844-7BOOYAH
About RSS Racing:
RSS Racing fields the No. 39 Chevrolet Camaro in the NASCAR XFINITY Series for Ryan Sieg. RSS Racing has competed in NASCAR events since 2009 from its headquarters in Sugar Hill, Ga. For more information on RSS Racing and Ryan Sieg, please visit ryansiegracing.com or follow them on face book https://www.facebook.com/RyanSiegRacing/
About The Booyah Veteran Bus Project:
The Veteran Bus Project is a three phase endeavor to provide a sense of dignity to the countless homeless and transitioning Veterans in our nation. With the 2nd Phase of the Hike Starting on September 11, 2016, where the Team Continues Their Hike Across The Country. Follow the entire journey of The Booyah Veteran Bus Team On Facebook