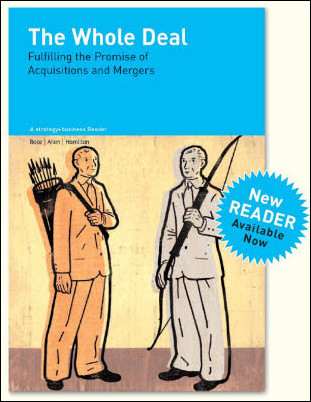 100 Best Companies for Working Mothers.
New York, NY (PRWEB) October 4, 2006 –-
What you don't know about due diligence can hurt you.
Organizations looking to merge today face an enormously complex process that comprises many individual tasks. Due diligence is among the more well-known of these, yet most executives see this area as primarily comprising financial and legal due diligence. In fact, there's a third component called "strategic due diligence" that is critically important to deal success. It explores whether the potential of the transaction is realistic – or not.
Strategic due diligence, which tests the strategic rationale for a proposed transaction, is one of the M&A topics examined in a new book by the management consulting firm Booz Allen Hamilton titled "The Whole Deal: Fulfilling the Promise of Acquisitions and Mergers."
"The Whole Deal" spans the entire transaction timeline, from pre-deal issues to post merger integration. It was developed by Booz Allen's mergers and restructuring practice (http://www.boozallen.com/mergers), which over the past 5 years has supported more than 600 acquisitions and restructurings. It draws from Booz Allen's hands-on efforts in post merger integration, M&A due diligence and post-deal restructuring.
"Even when an organization recognizes the need to undertake strategic due diligence, its work is far from over. Strategic due diligence is not a one-size-fits-all program. Managers need to figure out exactly where to focus their efforts. Examining both the degree of overlap and the difference in size between target and acquirer will guide due diligence teams to those areas of the organization that face the greatest integration risk. Armed with this information, the teams can fully analyze whether their proposed transaction should truly meet its promise," says Gerald Adolph, Senior Vice President and leader of Booz Allen's mergers and restructuring practice.
The "Whole Deal" is edited by writer Michael Sisk and Andrew Sambrook, Booz Allen Principal. The book, published by strategy+business Books, comprises 20 distinct articles, some produced exclusively for this compilation and others updated for this volume.
A sampling of "The Whole Deal's" contents:
--"Strategic Due Diligence: A Foundation for M&A Success," by Gerald Adolph, Simon Gillies and Joerg Krings
--"Delivering on the Promise: 10 Merger Imperatives," by Gerald Adolph, J. Neely and Karla Elrod
--"Tandem or Solo: Selecting an Ownership Approach in China," by Edward Tse
--"Latin America: The Consolidation Race Continues," by Alonso Martinez and Ignacio Pulido
--"Hearts and Minds: The Key to Successful Mergers," by Tim Jackson and Liza Spence
Select articles from "The Whole Deal" can be downloaded free of charge at http://www.boozallen.com/mergers-dl. The book can also be purchased there.
About Booz Allen Hamilton:
Booz Allen Hamilton has been at the forefront of management consulting for businesses and governments for more than 90 years. Integrating the full range of consulting capabilities, Booz Allen is the one firm that helps clients solve their toughest problems, working by their side to help them achieve their missions. Booz Allen is committed to delivering results that endure.
With 18,000 employees on six continents, the firm generates annual sales that exceed $3.7 billion. Booz Allen has been recognized as a consultant and an employer of choice. In 2005 and in 2006, Fortune magazine named Booz Allen one of "The 100 Best Companies to Work For," and for the past seven years, Working Mother has ranked the firm among its "100 Best Companies for Working Mothers."
To learn more about the firm, visit the Booz Allen Web site at http://www.boozallen.com. To learn more about the best ideas in business, visit http://www.strategy-business.com, the Web site for strategy+business, a quarterly journal sponsored by Booz Allen.
Contacts:
Cindy Martin, (847) 864-9540
Farrell Kramer, (201) 768-5337
###