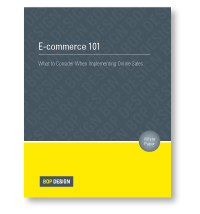 52 percent of users rely on the Internet for shopping and other consumer services.
San Diego, CA (PRWEB) January 22, 2014
Today, San Diego marketing firm Bop Design published its first-ever white paper on B2B e-commerce strategies, titled "E-commerce 101: What to Consider When Implementing Online Sales." This guide is geared toward B2B marketing and sales teams seeking an introduction to online transactions and initial steps to the process.
"52 percent of users rely on the Internet for shopping and other consumer services," says Jeremy Durant, business principal of Bop Design. "As online shopping becomes the norm in individuals' personal lives, the expectation to make faster, smoother transactions with B2B companies increases for the future."
The white paper covers four major points to starting an e-commerce strategy, which are:

Critical research components when choosing an e-commerce shopping platform
Team members to involve in the construction of an e-commerce experience
When to implement mobile e-commerce
Durant continues that even if a business does not sell tangible products or have a traditional sales model, there are substitutions to e-commerce. "If your B2B company isn't ready to implement an e-commerce strategy, your website can still serve as an effective lead generation tool," adds Durant.
The white paper is now available for download on the Bop Design website.
###
Bop Design is a San Diego web design and development agency with offices also in Orange County, CA and the New York metro area. Specializing in B2B marketing, Bop Design creates holistic marketing plans geared toward lead generation and business development. Bop Design offers services in branding, logo design, website design and development, responsive web design, SEO, PPC, social media, and content marketing. http://www.bopdesign.com.