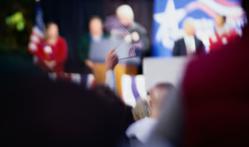 While the 2008 presidential election proved the power of social media on a grand scale, 2012 was more about messaging and strategy -- specifically, about getting those elements right.
San Diego, CA (PRWEB) November 17, 2012
One of the most contentious presidential campaigns in modern history is over, but the lessons it carries for marketers will be studied -- and emulated -- for years.
"While the 2008 presidential election proved the power of social media on a grand scale, 2012 was more about messaging and strategy -- specifically, about getting those elements right," says Jeremy Durant, business principal at Bop Design, a San Diego marketing agency that has helped hundreds of clients boost response through effective, strategic web design.
"The Obama camp obviously hit the ball out of the park, while the Romney team seemed to have more misses, more errors and fewer hits. We've identified five election takeaways that small business owners can heed when marketing to their clients and prospective clients."
The Five Obama Victory Takeaways:

Build a quality database of clients and prospects. This is a necessary foundation for small business email marketing. It will take more time to build a quality list, but your marketing ROI will be much better for it. Once you have a quality segmented database, don't market to your entire database with one message. Create more personalized content that will appeal to each of your audience segments. For example, send people who bought sweatshirts from your company an update on the latest sweatshirt designs, not about summer dresses. Sending targeted content to specific audiences is the best way to get good results.
Advertising to your fans' friends is a great way to use the Facebook Advertising platform. Spend your dollars on sponsored stories to target your fans and their friends rather than waste it on people who don't know your company or brand. This is especially relevant for small businesses on a budget.
Craft ads that appeal to your ideal customer base. Create messages that drive your point home and don't beat around the bush. Don't insult the intelligence of your target audience. Most importantly, focus on why it is important that they work with you and how you can help them.
Don't just dump a bunch of time and money into all social media or PPC platforms. Instead, invest on researching where your ideal customer is and spend your time and money in that space. You may just find that an uncommon channel is the right fit for you.
Know your audience. Don't stick your head in the sand about who you should be targeting. Do your research and make sure you are going after the right folks.
"While most company owners don't compare their businesses to political campaigns, there are similarities," Durant says. "After all, staying in business ultimately comes down to who accumulates the most customers who show their support by voting with their dollars.
"Marketing professionals should do their homework to make sure every campaign is on a winning path. By using modern marketing tools available to everyone, like the Obama campaign did, marketers are more likely to sail to victory whenever they step up to the plate."
About Bop Design
Bop Design is a boutique marketing communications firm headquartered in San Diego with offices also in the New York metro area. We express a business' values through brand development, advertising, design and web design. We also help attract a firm's ideal customer through search engine optimization and social media marketing services. The marketing firm's focus is on small businesses that want an external team of marketing specialists to help give their brand an edge in the marketplace.