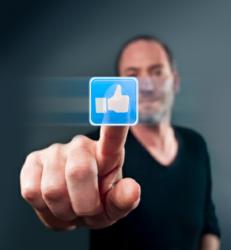 Most small businesses can benefit from a well-designed social media advertising strategy. The key is to use the right social media platform for your customer base.
San Diego, CA (PRWEB) November 10, 2012
Despite the explosive growth over the last few years of social media websites like Facebook and Twitter, many small businesses have yet to dip their toes in the social media advertising pool. But with all of the attention Facebook is getting for its ad revenues – which increased by a remarkable 36% during the third quarter of 2012 as reported in Forbes – Bop Design announces that now is a good time for business owners to consider using this powerful marketing tool.
"Most small businesses can benefit from a well-designed social media advertising strategy," says Jeremy Durant, Business Principal for Bop Design, a San Diego web design agency. "The key is to use the right social media platform for your customer base."
Each platform has its advantages and disadvantages, and people use them for different reasons. For example, people who regularly use LinkedIn may not be on Facebook, and vice versa. Also, options for targeting paid ads are different for each platform. "Don't make the mistake of adopting a one size fits all social media advertising strategy," Durant warns. "Instead, research your customer base to find out which social media platforms they use and how they use them. Then figure out how advertising on those platforms fits in with your overall online marketing plan."
Bop Design offers the following recommendations for advertising on social media sites:
Facebook
Facebook advertising can be a great way to grow the fan base of a Facebook business page. "During the vetting process, many people will check out a company's Facebook page," notes Durant. "The more people 'like' that company's page on Facebook, the more credible that company looks." For example, if a company page has hundreds of "likes" and its competitors have only have a few dozen, it makes the first company look more connected and more entrenched in the community.
Another advantage of Facebook is that its ad platform allows marketers to target people based on age, relationship status, interest, or geographic region. Keep in mind, however, that Facebook tends to be more casual and personal relationship oriented, and Facebook users don't want or expect a hard sell. To get the best results, the ad should be simple, make the product or service stand out, and include a clear call to action.
Twitter
Twitter tends to be faster-paced and more news/current events-oriented. So it's important to create compelling content, as it positions a company as a thought leader. Twitter ads draw attention to that thought leadership and promote the account to others who have similar interests. Twitter also allows users to pay to promote specific tweets to people who aren't already followers. Currently, people Twitter ads cannot link to outside websites, which is why it helps to use Twitter in conjunction with other social media platforms. "However, you can get a lot of bang for your buck by getting people to retweet your Twitter posts," Durant comments.
Durant also warns marketers about two important points to remember about Twitter. "People will only follow you and interact with your tweets if they're interesting and relevant, and there's no value in advertising on Twitter unless you're actually using your account."
LinkedIn
"LinkedIn is probably the best platform for B2B advertising because people are more ready to do business when they're on LinkedIn," say Durant. LinkedIn ads target individuals based on the companies they work for, specific job titles, or positions. Targeting by job title allows marketers to narrow ads to exactly the people who would be most interested in their B2B products or services. Another benefit is that LinkedIn has its own self-service ad network, called DirectAds, with options for display ads and sponsorships. To use LinkedIn most effectively, it's important to choose a target audience carefully, and create short, relevant ads with a specific call to action.
YouTube
YouTube offers a unique advertising opportunity in that ads can appear within videos or alongside them. And because the ads combine video and sound, they can be more engaging than other advertising platforms allow for. YouTube provides many resources to help marketers advertise more effectively on their site. "Be aware that viewers have short attention spans," Durant advises. "If you advertise with videos, keep them short, to the point, and entertaining as well as educational." Be sure to deliver key messages early, as viewers tend to tune out after a few minutes.
"Regardless of which platforms you use, remember that social media ads should never send people to your home page," says Durant. "Instead, have a landing page that clearly shows visitors what you want them to do next. Always include an option for providing their contact information so that you can build your email or social marketing list."
About Bop Design
Bop Design is a boutique marketing communications firm headquartered in San Diego with offices also in the New York metro area. We express a business' values through brand development, advertising, design and web design. We also help attract a firm's ideal customer through search engine optimization and social media marketing services. The marketing firm's focus is on small businesses that want an external team of marketing specialists to help give their brand an edge in the marketplace.