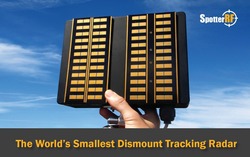 The SpotterRF is about giving our Border Patrol Agents and our soldiers the upper hand in perimeter defense and Homeland Security. With this new technology all law enforcement agents as well as our troops can have force protection systems that offer maximum situational awareness and life saving security, no one will be able to approach undetected
Lindon, UT (PRWEB) March 19, 2009
Drug cartels are bringing ever increasing levels of violence to the areas around our borders. Our National Security is being threatened by drug smugglers that are well equipped with high powered weapons, night vision goggles and other high-tech equipment. The US/Mexican border is becoming extremely unstable; Border Patrol Agents are under attack from drug cartels and need equipment that will give them the advantage in the "Battle for the Border."
The SpotterRF, a state of the art tracking radar, is available this summer for individual Border Patrol and Law Enforcement Agents to help detect and track drug dealers, terrorist and illegal aliens before they even infiltrate the U.S. border.
The SpotterRF can decrease border violence and secure our broken borders because it can detect and track individuals on foot up to 1000 yards and vehicles up to 1500 yards away during the night or day, through fog, sand, snow and rain giving Border Patrol a never before seen tool that facilitates the capture or determent of drug runners. Yet, the SpotterRF is so simple and easy to use that training can be done in 15 minutes and requires only a web browser and Google Earth to be used.
The 3 lb. SpotterRF can be quickly mounted to the top of a vehicle with magnetic mounts, powered from the cigarette lighter and connected to a laptop over an Ethernet cable. Within minutes a vehicle becomes a mobile tracking radar command center giving the agent the ability to know what is coming long before the smugglers have any idea that they are being monitored. This advance warning provides the agent with time to call for backup or get into a position to protect him or herself. The SpotterRF can also be mounted on the border fence or on any other stationary structure.
"The SpotterRF is about giving our Border Patrol Agents and our soldiers the upper hand in perimeter defense and Homeland Security. With this new technology all law enforcement agents as well as our troops can have force protection systems that offer maximum situational awareness and life saving security, no one will be able to approach undetected," stated Logan Harris, CTO of ImSAR.
To see a demonstration of this revolutionary new technology visit us at spotterrf.com.
# # #