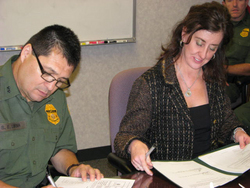 A project like this was very appealing and at the same time challenging. Challenging, because we had to engineer every day solutions in order to convert these used semis into highly efficient and technology capable vehicles
Mount Pleasant, PA (Vocus) October 8, 2010
In a ceremony last Tuesday to honor specialty vehicle manufacturer Mobile Concepts by Scotty for their role in the reconstruction and outfitting of mobile processing and detainment tractor trailers, officials from both the U.S. Customs and Border Patrol and Mobile Concepts gathered in Washington, D.C. to celebrate the official project close out signing of their contract.
The ceremony, held at the Ronald Reagan Building, came days after Steve Evans, who is chief of the Enforcement and Information Technology Division of Border Patrol, informed company president Anne Degre that "the quality of the system was evidenced during a recent hands–on demonstration, when the workmanship and technical operability of the entire system were applauded by the Commissioner of Customs and Border Protection and other senior executives. Their level of interest and their positive response told us that they too were pleased with this important investment."
Using tractor trailers seized for illegal activity such as drug, arms and human trafficking along the border, the U.S. Customs and Border Patrol partnered with Mobile Concepts to come up with an economical mobile solution for securing the nation's borders.
Officials awarded the contract last year to Mobile Concepts, which is located in Mount Pleasant, Pennsylvania: 50 miles southeast of Pittsburgh. In order to save the government money on this project, specifications called for the repurposing of two confiscated tractor trailers into mobile processing and detainment centers.
"A project like this was very appealing and at the same time challenging. Challenging, because we had to engineer every day solutions in order to convert these used semis into highly efficient and technology capable vehicles," commented Degre. "Appealing, because we appreciate being included in a project that will save the government money and make the U.S. a safer place – all while increasing cash flow for our area and our vendors."
The company purchased nearly all of its supplies for this project from U.S. vendors and most are located in Pennsylvania. They prefer to use local and broader commonwealth vendors in order to help boost the state's economy.
Mobile Concepts has perfected tractor trailer outfitting and welcomes projects like these in order to best serve various industries including government, military, law enforcement and fire. Visit http://www.MobileConcepts.com for more information about the many other custom vehicles Mobile Concepts offers.
###