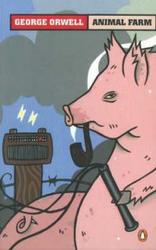 London, UK (PRWEB) September 19, 2008
Animal Farm by George Orwell: Animal Farm is an allegory for the rise and decline of socialism in the Soviet Union and the emergence of the totalitarian rule of Stalin. It was banned in the USSR until the 1980s for being anti-Communist but also banned in the USA for the Communist text in its introduction. Published in 1945 it is arguably one of the most important books of the 20th century.
The books below were also banned. Do you know why?

Gone with the wind - Margaret Mitchell
To kill a Mockingbird - Harper Lee
The Satanic Verses - Salman Rushdie
The Catcher in the Rye - J.D. Salinger
The Communist Manifesto - Friedrich Engels and Karl Marx
Brave new World - Aldous Huxley
The Grapes of Wrath - John Steinbeck
On the Origin of Species - Charles Darwin
Go here to find out why these other famous books were banned.
Watch videos of banned books where Maya Angelou talks about the importance of reading, Salman Rushdie reads from The Satanic Verses and a video about John Steinbeck's The Grapes of Wrath.
Borders Books UK announces a special offer to highlight the books that were banned by history. All this month Borders is featuring a wide range of banned books, all with up to 40% off the RRP.
Join the [Blog debate on Banned Books at Borders Books.
Notes to editors:
Leading retailer Borders UK offers the widest range of books and magazines in the marketplace, and has a growing share of the specialist music and DVD markets. With their Starbucks coffee shops and Paperchase stationery concessions, as well as dedicated children's sections, Borders stores offer a warm and friendly shopping environment where customers can browse and relax.
Retail Bookselling Chain of the Year 2005 & 2006, Bookselling Company of the Year 2006 & 2007, Children's Retailer of the Year 2007, and Magazine Destination Retailer of the Year 2007, Borders UK has over one million square feet of retail space and around 8% of the retail bookselling market. Borders currently operates 41 Borders superstores in city centres and retail parks from Bournemouth to Inverness and 25 high street and airport bookshops under the Books etc. and Borders Express brands. In October 2006 Borders opened its first superstore in the Republic of Ireland, in the West Dublin suburb of Blanchardstown, and in September last year it opened its new flagship store in the heart of Cardiff City Centre.
For further information, contact Alex Hippisley-Cox on 020 8488 3764 or email her at ahipcoxpr @ btconnect.com
###