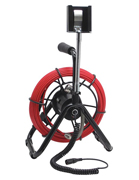 This system combines the best features of a video borescope with a pipeline camera … so you can see and record what's not visible from the surface.
(PRWEB) November 30, 2012
Sometimes during inspections the need to see deep into plumbing pipes or ductwork and a $350 borescope won't reach far enough, but spending more than $2500 for a pipeline reel camera system isn't feasible either. Recognizing the need for an affordable inspection system, Professional Equipment recently added the General Tools® Pipe/Duct Video Borescope System to the extensive line of testing and diagnostic equipment for plumbers, HVAC installers and other building trade professionals.
Built to be one part probe and reel, one part recording borescope, this new Pipe/Duct Video Borescope System shows what's really going on deep inside ductwork and water/sewer pipes and comes in under the $2100 mark.
"General Tools continues to bring some great options to the inspection market," said Professional Equipment Brand Manager Lisa Sympson. "This system combines the best features of a video Borescope with a pipeline camera, making it easier to view what's not visible from the surface."
The super long 72'L, 1.1"-dia. stainless steel camera-tipped probe is flexible, waterproof to IP68 standards (to a depth of 50 ft.), can maneuver through two 90° bends and withstands toilet cleaners, unleaded gasoline, brake/transmission fluid and oil. Eight bright white LEDs lead the way giving a clear view with an outstanding 640 x 480 pixel (VGA) resolution and the 2GB SD memory card recording the view.
Professional Equipment's expert technical support department can help customers choose the right equipment for particular applications. With financing options and a 90-day deferred lease program, Professional Equipment also makes it easy to get expensive equipment in the field earning money without tying up cash flow.
About Professional Equipment
Professional Equipment, founded in 1987, is the leading national distributor of top-quality testing, diagnostic and measuring equipment used by home inspectors, energy auditors, restoration contractors, HVAC contractors, electricians, property managers, general contractors, roofing specialists, insulation installers, architects, commercial building inspectors, insurance adjustors and other construction-related trades.
The PE catalog sports more than 150 pages of full-color photos of testing equipment, safety supplies and building trade support products from the best brands in the industry, including FLIR, Extech, Bacharach, Tif, Fluke, GE, Tramex, Delmhorst, Leica, Streamlight, TPI, Amprobe, UEI, The website, ProfessionalEquipment.com, boasts even more equipment with 14,000 items complete with product reviews.
To request a catalog, visit ProfessionalEquipment.com.