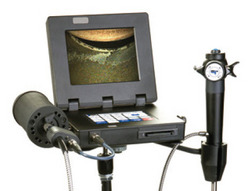 At Advanced Inspection Technologies, we have many unique and interesting applications for our borescope rentals
Melbourne, FL (Vocus) July 27, 2009
Recently Advanced Inspection Technologies rented a Video borescope to a law firm that was representing a client that manufactures high quality machined parts for the aerospace industry. The client needed to prove without a doubt that the part they manufactured did not contribute to the failure of major aerospace component.
The law firm hired an expert that used the borescope rental to prove beyond a reasonable doubt that the high quality machined part could not have contributed to the failure. The borescope rental was used to show the interior threads of a small area that otherwise could not of been viewed. The borescope rental proved that there were no wear marks or fatigue on the manufactured component. The borescope image was crucial to make a convincing defense and win the day.
"At Advanced Inspection Technologies, we have many unique and interesting applications for our borescope rentals," said Paul Fitzgerald, President and CEO of Advanced Inspection Technologies. "Forensic applications are always interesting. AIT has been privileged to partner with Insurance companies and law firms that need to determine the cause of engine fires on luxury yachts, aircraft accidents and other mishaps. AIT provides them with a borescope rental option and expertise that is responsive enough to meet their inspection requirements at a moments notice. AIT maintains a large inventory of borescope rental equipment to meet a wide variety of applications."
About Advanced Inspection Technologies:
Headquartered in Melbourne, Florida Advanced Inspection Technologies is an industry leader in the sales and rental of Remote Visual Inspection equipment. Advanced Inspection Technologies provides unparalleled 24x7 borescope rental services. Advanced Inspection Technologies services and products enable companies to inspect machinery, facilities and infrastructure in the safest, quickest and most cost-effective manner possible. Advanced Inspection Technologies products have been used to streamline the inspection process in all industries where image quality, safety, security and accuracy are of paramount concern, such as aviation, electric power generation, petro-chemical processing, manufacturing and infrastructure. For more information on Advanced Inspection Technologies visit http://www.aitrents.com for borescope rentals.
###