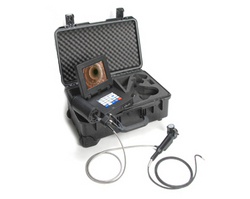 Melbourne, FL (PRWEB) January 14, 2009
iTool videoscopes are intended for industrial remote visual borescope inspection of the interior of aircraft turbine engines,power generation turbines, piping, boiler tubes, condensers, industrial lines, rotating machinery and other difficult-to-access areas. The iTool is designed specifically for NDT, quality control, troubleshooting, and predictive maintenance tasks to be performed with minimal equipment downtime, while maximizing safety, efficiency, and operational time. The iTool series of videoscopes are simple to operate, extremely portable, produces the highest resolution images possible. Even more impressive is the price! The iTool series of videoscopes is typically 1/3 less expensive than than other videoscope of the same caliber.
The introduction of the iTool videoscope is a welcome addition to AIT's existing videoscope and borescope systems to provide its customers with optimal solutions for all industrial applications.
The new iTool videoscopes are extremely portable and weigh only 5.5 pounds! This makes transporting around industrial plants from inspection to inspection easy. The iTool features a brilliant 7" LCD with digital image capture, text annotation, audio recording, full screen image review and comparison measurement. Recorded inspection can be easily transferred to a PC with a USB cable or compact flash card.
About Advanced Inspection Technologies Inc: AIT is a leading provider of remote visual inspection (RVI) solutions, AIT offers a complete range of videoscopes, fiberscopes, and rigid borescopes for industrial inspection applications across many industries including weld & pipe inspection, refineries, power generation, aviation, HVAC, automotive, paper mills, pharmaceutical and field service. In addition, AIT offers a rental program and a complete repair service for most models of Remote Visual Inspection equipment.
###