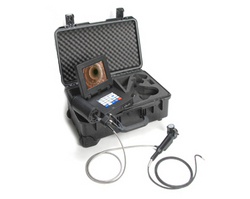 Melbourne, FL (PRWEB) February 5, 2009
Advanced Inspection Technologies - AIT, a leader in the development, sales, and rental, of Video Borescopes, Videoscopes, Videoprobes and Remote Visual Inspection (RVI) equipment, has added the most affordable high resolution, fully articulated video borescope. The 4.0mm diameter iTool is designed to fit deep inside virtually inaccessible spaces where inspections are crucial; the 4.0mm video borescope is perfect for the inspection of any small space. Applications include: finished parts, rotating machinery, turbines, Automotive, small diameter piping, castings, manufacturing, non destructive testing, quality, power generation, petrochemical and processing plants.
With the introduction of the 4.0mm iTool, Advanced Inspection Technologies has improved its position as an industry leader and broadened its product offering. AIT can now offer customers the most affordable high quality video borescopes in the 4.0mm, 6.0mm and 8.0mm range. This compliments AIT's wide range of rigid borescopes and fiberscopes that can meet applications as small as 0.5mm. This new 4.0mm video borescope not only goes into spaces that were previously unexplored, but also provides digital recording and delivers the best-quality and most complete views while there.
As with all iTool Videoscope models, the 4.0mm videoscope provides affordable high-quality imaging with easy tip manipulation, digital recording and annotation. The 4.0mm videoscope is standard with a rugged tungsten insertion tube for maximum durability. 2-way articulation, forward and side-view optical tips allow for inspection in all directions. The small videoscope tip provides unprecedented maneuverability in tight spaces - 160º articulation for full-directional viewing.
The 4.0mm diameter iTool is available as a complete system - iSeries™ Videoscope, iTool™ LCD imaging-hub and iCase™ or as an upgrade to an existing model.
###