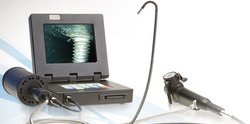 I am amazed at the variety of applications our borescope rentals are used for
Melbourne, FL (Vocus) December 15, 2009
Borescope Rentals from Advanced Inspection Technologies have always made it possible for industrial customers to inspect the most difficult areas possible on a moments notice. A Borescope is typically a thin flexible insertion tube with a camera on one end and a video monitor on the other. The borescope is inserted into areas that would otherwise be impossible to inspect without tear down. Inspectors use borescopes rented from AIT to inspect inside the support structures of cell phone towers.
Inspectors climb the cell towers and insert the flexible borescope through weep holes that were designed to allow moisture to escape. The borescope rentals for this application will typically be 6.0 mm (.236 in.) in diameter and approximately 6.0 meters (20 ft.) to fit inside the access and snake down the structure from several heights. The inspectors use the borescope rental equipment to look for corrosion that may affect the structural integrity of the cell phone tower. Cell phone towers in coastal areas such as Florida, Louisiana and Texas are under the most scrutiny because of the salty air.
"I am amazed at the variety of applications our borescope rentals are used for," said Paul C. Fitzgerald, President and CEO of Advanced Inspection Technologies. "Everything that makes modern life possible has probably been inspected with a high resolution video borescope during it's construction or maintenance life cycle. Every day life from the planes we fly, the electricity we use, the cars we drive and our communications require a borescope inspection at some point."
Due to the heights and working conditions involved with cell towers, inspectors need the most portable borescope equipment available. AIT's borescope rentals are designed for a variety of industrial applications. The borescope rental equipment from AIT features an ergonomic hand-piece and allows one-handed operation of the camera articulation and image capture control. The borescope rental system provide a high definition color LCD screen for viewing and playback of inspections.
About Advanced Inspection Technologies:
Headquartered in Melbourne, Florida, AIT is the industry leader for borescope and infrared camera rentals. AIT provides unparalleled 24x7 borescope and infrared rental support. AIT's rental services and products enable companies to inspect machinery, facilities and infrastructure in the safest, quickest and most cost-effective manner possible. AIT's borescope rental equipment has been used to improve the inspection process in all industries where image quality, safety, security and accuracy are of the highest concern, such as aviation, electric power generation, petro-chemical, manufacturing, predictive maintenance and infrastructure.
# # #