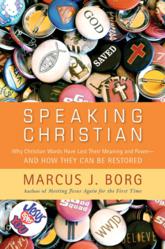 This book could start a revolution. Borg cracks open the encrusted words of faith and pops them into fresh language that people can understand and trust. —Anne Sutherland Howard, executive director of The Beatitudes Society
San Francisco, CA (Vocus/PRWEB) April 12, 2011
The cornerstone of Christianity includes sin, forgiveness, Jesus dying for our sins, and the afterlife. However, in his new book Speaking Christian: Why Christian Words Have Lost Their Meaning and Power—And How They Can Be Restored (HarperOne; April 12, 2011; Hardcover; $25.99), Marcus Borg asserts that modern Christians are steeped in a language so distorted that it has become a stumbling block to the religion. These words and concepts don't mean what we think they mean.
In the 4th century, Christianity began to focus largely on the afterlife and the post-mortem fate of people. But Christianity's initial focus was on compassion and God's dream for a just and peaceful world in the here and now. Unfortunately, this original interpretation of the Bible has been overshadowed by "heaven and hell Christianity." As Borg illustrates In Speaking Christian, modern Christianity has lost its transformative power because of a literalism that has impoverished the meaning of the Bible and a consequent misunderstanding of Christianity's core ideas.
Borg urges readers to consider whether we can be Christian without sharing God's passion for transformation of ourselves and the world. His unequivocal answer is no; being Christian includes "speaking Christian." To that end, Borg offers a way to redeem Christian language by reading Scripture through a "historical-metaphorical lens." Doing so matters not only because the language of the Bible is extraordinarily rich and wise, but also because how we speak and understand Christian language can revitalize Christianity and change the world.
Marcus J. Borg is professor emeritus in the philosophy department at Oregon State University, where he held the Hundere Chair in Religion and Culture, and author of the New York Times bestsellers Meeting Jesus Again for the First Time, The Heart of Christianity, The Last Week, and Jesus. He was an active member of the Jesus Seminar when it focused on the historical Jesus and he has been chair of the historical Jesus section of the Society of Biblical Literature.
# # #