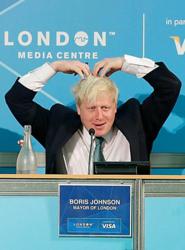 Sports clubs are a fundamental part of many communities and are the heart of a lot of villages. I think it is extremely important that they continue to exist and thrive
(PRWEB UK) 13 October 2012
The importance of sports in schools is obvious. It is great to see that the Mayor of London keeping the sporting spirit going even after the Olympic craze is beginning to die down. In a new article in the Telegraph, Boris Johnson and Mo Farah are spearheading a new campaign to get children to get more active, by demonstrating some of the recommendations of other fitness reports.
All of this comes from reports offered by youth focused agencies, such as the Move It report and Designed to Move. Some of the shocking results that have came back, offer a scary realisation about the health and fitness of the younger generation.
The Designed To Move came back with the harrowing finding that today's nine year olds, are likely to be 50 per cent less active by the time they turn 15. This is a disturbing figure, especially in a society where child obesity is rife.
In order to combat this, the Mayor of London; Boris Johnson and Olympic gold medalist; Mo Farah are tackling the problem head on. Boris Johnson said that he is attacking this at grass roots level; in order to up the amount of physical activity children partake in, through more physical education lessons, extra curricular lessons and community activities.
Boris Johnson has also made it clear that he wants to support Elite athletes, as the importance that they play in inspiring the 'next generation' of athletes is too great to leave.
Gymkit UK is a great supporter of sports at all levels. Offering help to clubs for their equipment needs. Supplying functional training equipment and commercial gym equipment in order to help the next generation of athletes achieve their potential. Health Clubs at Home have supplied grass roots level clubs all over the country.
Howard Braband is the MD of Gymkit UK and has always been avid supporters of helping clubs achieve more through the equipment they use. 'Sports clubs are a fundamental part of many communities and are the heart of a lot of villages. I think it is extremely important that they continue to exist and thrive. I am proud that I can offer this commercial equipment at great prices. A lot of the clubs even have spare money left for rehab facilities like inversion tables'.
If you are a club or society and are looking for commercial gym equipment for sale then Gymkit UK can find the equipment to suit any requirements. Freephone now on: 0845 86 99 298 to speak to a member of staff, or click here to visit our website