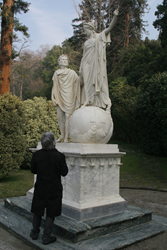 When I first read The Divine Comedy in primitive Italian, I realized the story works on many symbolic levels – religious, romantic, philosophical, historical, and political – and I was staggered at how relevant it is to people 700 years later.
Temecula, CA (PRWEB) August 31, 2010
Director Armand Mastroianni said: "I have been directing films since 1980 and during that time I've had the pleasure of meeting many interesting people, including Tom Hanks, all sharing the same desire to express their talent in some way. Only those individuals with great tenacity, perseverance and talent achieve that. I believe such an individual is Boris Acosta. It has been his dream to produce Dante Alighieri's Divine Comedy into three live-action 3D films, Inferno, Purgatorio, and Paradiso. Boris Acosta gave me the script he was preparing for Dante's Inferno as the first live-action feature. I was very impressed with the work, overall concept, and the idea of visually interpreting this epic poem. Boris' passion to bring the second biggest Christian story to every home throughout the world is one I highly admire and thoroughly support. It is time for us to see his dream come true."
Boris Acosta was dismayed that Dante Aligheri was condemned by his political enemies to perpetual exile from his native Florence. To this end, in 2008 he petitioned in writing to then President Renzi of the City Council of Florence to consider a pardon for the native Florentine. In June 2008, as the result of Acosta's efforts, a motion to pardon Dante's sentence passed and the legendary Dante Alighieri is today forever exonerated.
As founder and principal of a family of independent film production and distribution companies, Boris Acosta is currently producing and directing a series of projects including: documentaries, short animation, original paintings, 3D live-action films, 3D animations, a graphic novel series, a book of 72 original paintings based on Dante's Inferno and other associated productions.
The more than 10 films of Dante's Inferno, and its sequels Purgatorio and Paradiso, are based on his adaptation of The Divine Comedy written by Dante Alighieri. The three-part journey chronicles Dante Alighieri's figurative descent into Hell, Purgatory, and Paradise. These include:

Dante's Inferno - Abandon All Hope, the first ever documentary based on Dante's Inferno, Narrated by Jeff Conaway (Grease) was released in January 2010 and later in August 2010 as a special edition. Click here to read Press Release.
Inferno by Dante, the first part of this trilogy, is a 2-hour feature film starring Academy Award and Golden Globe nominee Eric Roberts, and narrated by Golden Globe nominee Jeff Conaway. Inferno by Dante presents Dante's Inferno story circle-by-circle in a chronological descent to Hell. Among many celebrities, in addition to Eric Roberts (The Expendables, Batman - The Dark Knight ), Inferno by Dante features Armand Mastroianni, Helene Cardona, Italian legend Arnoldo Foa, Diane Salinger, Rico Simonini, Jsu Garcia, Marti Kove, Jenn Gotzon and Monsignor Marco Frisina from The Vatican among 30 celebrities and scholars from both the United States and Italy.
Dante's Hell Animated is a compelling medium length film that first started as a series of comic-book illustrations. Later, under Acosta's direction, and with the expertise of a team of illustrators and computer animators, the material was developed into a 38-minute 2D animated film in both English and Italian. The English version features the voices of Jeff Conaway and Eric Roberts (as Dante), while the historic Italian version features Franco Nero, Veronica Di Laurentiis, Arnoldo Foa and other world known celebrities.
The 3D live-action trilogy and 3D animation trilogy motion pictures, based on Dante's Inferno, Purgatorio and Paradiso are currently in pre-production and will start filming in 2013 in Europe and the United States, respectively. These productions are expected to be under the direction of Armand Mastroianni (The Celestine Prophecy). The team includes Academy Award winners production designer Dan Hennah (The Lord of the Rings Trilogy) and editor Thom Noble (Witness), among many other seasoned film-industry creative professionals, who will be working alongside an international cast.
Moreover, in the fine-arts arena, Acosta's visual journey is also realized in Dante's Inferno Art, a collection of 72 original paintings intended to foster an understanding in younger audiences of Dante's teachings. A 50-piece partial collection was first exhibited in 2011 at the Pablo Atchugarry Foundation in Punta del Este, Uruguay. Permanent and non-permanent exhibitions are pending worldwide.
The films "Dante's Inferno - Abandon All Hope" and "Dante's Hell Animated" have been freely available online to students worldwide, starting with UCLA Italian Department since September 2010. All educational institutions worldwide are welcome to request free access to the films.
Visit http://www.DantesInfernoOfficial.com to learn about all Boris Acosta's projects based on Dante Alighieri's Divine Comedy.