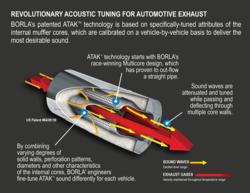 Borla's ATAK technology transforms the driving experience into a form of harmonic expression by providing the driver with command of their vehicle's sound signature to fit their state of mind
Johnson City, Tennessee (PRWEB) June 27, 2013
"Made in America" is alive and well in the heartland, where Borla® Performance Industries, the pioneer in the manufacture of high-performance stainless steel exhaust systems, has just been awarded a U.S. patent (No. 8439159) for a breakthrough muffler technology. One that has drivers turning down their stereos to enjoy the music coming from their exhaust pipes.
Named ATAK™ for Acoustically-Tuned Applied Kinetics, the technology allows Borla engineers to custom-tune exhaust sound with the precision of a graphic equalizer. Inside ATAK™ mufflers are multiple tube-shaped cores with perforated walls. Using computer-controlled modeling, the perforation patterns of the core walls — along with their quantity, length and diameter — are varied to produce just the right exhaust note. A brief video overview of ATAK™ technology can be viewed by clicking here.
Like all Borla exhaust kits, ATAK™ systems are built for specific vehicle models, ensuring the volume and character of the sound enhances that vehicle's distinct personality. "Borla's ATAK™ technology transforms the driving experience into a form of harmonic expression by providing the driver with command of their vehicle's sound signature to fit their state of mind," says David Borla, VP Sales & Marketing.
ATAK™ patented technology is based on Borla's proven Multicore design, which is responsible for numerous racing wins in high-profile venues from the NHRA to the Baja 1000.
While ATAK™ exhaust systems produce the highest dB (decibel) levels in the Borla product family, the company's S-Type technology offers a slightly tamer race-bred sound, and their Touring technology provides a mild growl that's just a bit more aggressive than stock. Borla offers a choice of all three sound levels for many popular vehicles.
On top of the improved sound, Borla exhaust systems provide a boost in power and torque, higher fuel efficiency while cruising, weight savings over the stock exhaust, and high-quality 300-Series Austenitic Stainless Steel construction that ensures a rust-free life. An industry leading Million Mile Warranty is included.
For more information on ATAK™ technology and other Borla products, visit http://www.borla.com or call toll-free 1-877-GO BORLA (1-877-462-6752).