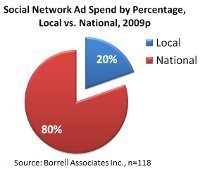 Work like this is a standard part of our due diligence process
Williamsburg, Va. (PRWEB) July 14, 2009
A recent Borrell Associates assessment of more than 100 social networking sites reveals that almost 20 percent of their advertising comes from local businesses and marketers. The amount projected to be spent in 2009 comes to $641 million out of $3.26 billion across 118 social networking sites surveyed.
A key finding is that the majority of this local ad spend is captured by two Web sites - MySpace and Facebook. Between them they captured $363 million dollars, or 57 percent of the surveyed local social network advertising.
"Work like this is a standard part of our due diligence process," said Borrell president Colby Atwood. "Since our process involves measuring revenue streams, we watch every aspect of important interactive spending categories closely, until we're sure our numbers are fairly accurate." Atwood expects social network spending to join the other interactive categories currently measured by year's end.
A free download of the individual social network ad spending projections can be found at -- SocNet 2009.
To read Gordon Borrell's thoughts and discuss more about social networking see our Borrell Associates blog - http://www.borrellassociates.com .
About Borrell Associates
Borrell Associates is the leading provider of local interactive advertising research, data, strategic analysis and sales training. The company has offices in Williamsburg, Va., and Seattle, Wash., and provides detailed local market advertising reports for hundreds of media companies, including Local Online Ad Spending, Local Ad $pending Report (LA$R®) and customized reports for any U.S., Canadian or U.K. market.
CONTACT:
Peter Conti, Senior VP
Borrell Associates
1-804-360-9434
http://www.borrellassociates.com
###