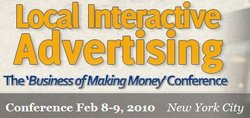 Local Interactive Advertising: The 'Business of Making Money' Conference
Williamsburg, Va. (PRWEB) September 16, 2009
Borrell Associates will hold its 2010 Local Interactive Advertising conference in New York City, Feb. 8-9, 2010, featuring an agenda that focuses exclusively on turning interactive media into a viable, money-making business.
"Local Interactive Advertising: The 'Business of Making Money' Conference" offers two days of dynamic speakers, workshops and networking that will address both long-term strategies and immediate ways local media can generate more revenue for their Internet operations. The conference will be held at the Grand Hyatt New York and is expected to draw hundreds of local media executives in the ad-sales, financial and strategic management fields. Borrell Associates Conference
Jeff Jarvis, author of "What Would Google Do" and a former local media executive himself, will kick off the session on Feb. 8 with the keynote speech on how hyperlocal Web sites can make sustainable profits. Jarvis, acclaimed leader on blogging, online news and collaborative journalism, is an associate professor at City University of New York who recently completed a study on the economics of these sites.
Other confirmed speakers are Court Cunningham, CEO of Yodle, who led his company to become the fastest-growing local interactive sales operation last year; the top executives in charge of creating local media partnerships for Google, Yahoo and Microsoft; the CEO of a local media company in the U.K. who oversees a portfolio of sites for jobs, real estate and autos; a former Yahoo advertising executive who's driving exponential growth for a TV station Web sites; and front-line yellow pages, radio, newspaper and pure-play local sales executives who will discuss what's working in the high-growth categories of e-mail, video, paid search and online directories.
"I am thrilled at the no-nonsense nature of this agenda and the quality of speakers who've agreed to participate," said Gordon Borrell, CEO of Borrell Associates. "We've shunned the 'shiny new thing' obsession that most conference agendas seem to suffer. We're concentrating on what's generating the most revenue. And it's not just talking heads. We've built in ample time for Q&A and for networking with these leaders."
The conference couldn't be timelier. Borrell is forecasting that local interactive advertising in the U.S. will grow at a relatively paltry 5.6% in 2010, to $14.9 billion, and will begin leveling off by 2011. That means anyone trying to grow interactive revenues will no longer be able to ride a fast-rising tide, but will instead need to hone sales and content strategies.
A feature of the conference will be a custom local interactive advertising data report for each attendee who signs up before October 30th. The report will be tailored to the attendee's market, and attendees will be able to participate in one of several simultaneous workshops on how to interpret and use the report to generate immediate sales. The workshops will address top sales prospects, client presentation tips, setting ad rates, sales compensation and commission, and other issues affecting online sales staffs.
# # #