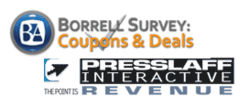 This survey will help match up advertisers' expectations with consumer interest in a market...
Williamsburg, Virginia (PRWEB) July 19, 2011
Local media companies are invited to participate in two nationwide studies identifying Consumer and Advertiser interest in the timely and lucrative field of coupons, deals and certificates. The Consumer study will gauge consumers' interest and use of coupons and deal certificate savings programs. The Advertiser study will uncover advertisers' interest and experience in participating in deal certificates and coupons advertising programs. Combined, these studies will provide a 360-degree evaluation of the burgeoning online and mobile coupons and deals market by collecting and analyzing feedback from both consumers and merchants.
Local media properties can use this information to tailor their digital advertising platforms to appeal to advertisers and to better target customers interested in online and mobile coupons and deals. Borrell Associates estimates that currently $1.1 billion is spent on local promotional marketing for digital coupons and deals and that this figure will grow to $4.2 billion by 2016.
Participation is free and is open to any local-market outlet of a newspaper, TV station or radio station that maintains an online site supported by advertising revenue. In order to participate, media properties must register at http://www.presslaff.com/survey by Thursday, July 28.
Presslaff Interactive Revenue President, Ruth Presslaff says, "At a time when interest in online couponing and deals are exploding, this comprehensive look at consumers and advertisers makes this a particularly valuable and interesting study."
Borrell Associates EVP Peter Conti added, "This survey will help match up advertisers' expectations with consumer interest in a market so that local media companies can craft compelling digital advertising programs."
Media properties who participate in the study will have access to a Webinar sharing the national survey results. In addition, local media properties will be able to receive a spreadsheet with their individual survey results and local consumer opt-in email addresses for a $250 fee.
Both the advertiser and the consumer surveys are online-only surveys. As an incentive to participate, consumers and advertisers will be entered into a drawing to win a $500 American Express gift card. One winner will be randomly drawn from the consumer participants and one from the advertiser participant. The survey period is open for the month of August.
To register to participate or for more information click here http://www.presslaff.com/survey
About Borrell Associates
Borrell Associates is an advertising research and consulting firm that assists local media Web sites in maximizing their ad revenue. Borrell Associates helps media companies to develop and implement fact-based strategies and ad-sales tactics supported by our proprietary local ad-spending data through products such as the Compass Report that details local ad-spending patterns for 100 businesses by 13 media. In 2011, Borrell Associates acquired Belden Interactive, a leading survey research firm studying ad-spending intentions at the local-level by SMBs. With 18 employees, Borrell Associates is based in Williamsburg, VA with an additional office in Seattle.
About Presslaff Interactive Revenue (PIR)
Presslaff Interactive Revenue is the leading online email and database marketing services provider for over 1,000 radio, television and newspaper properties and nationally syndicated personalities across the United States and Canada. PIR's combined Dat-e-Base software platform and customer-focused marketing support produces increased audience and advertising revenue for its clients by helping them understand and profit from user data collected on its Web site. Presslaff Interactive is a privately owned company founded in 1988 and based in Torrance, CA with offices in the metro areas of Seattle, Denver and New York. Visit http://www.presslaff.com for more information.
###