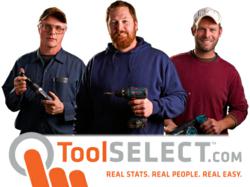 Distance-measuring tools are intriguing to a lot of our members.
Grand Rapids, MI (PRWEB) February 16, 2012
Bosch tool enthusiasts among ToolSelect.com's member-driven community are excited to review and discuss three new distance measuring tools launched this month from Bosch.
Among the new releases is the GLM 80, the first 90-degree tilt-sensor laser distance measuring tool powered by Li-Ion technology. This tool can read angles whether the tool is handled either horizontally or vertically and received a Best of What's New 2011 Award from Popular Science.
The GLR825 laser range finder is another new Bosch tool to hit the market. Designed for builders, architects, construction supervisors, building engineers, finish and trim carpenters, project estimators, inspectors, plumbers, electricians, appraisers and police departments investigating crime scenes, Bosch claims this tool can measure in 11 different modes over a distance of 825 feet
.
The third tool of the bunch, the GLM 50, is a distance measuring tool designed for simplified, daily jobsite use. Bosch touts the tool as the most complete laser distance measurer in its class, noting its use of the five most commonly used measurement modes, a backlit display and an accuracy of up to 1/16".
"Distance measuring tools are intriguing to a lot of our members," says Gerry Barnaby, Director of Excitement with ToolSelect. "People can be picky when it comes to distance measurers, and we're interested to see how our community reacts to these new Bosch tools."
About ToolSelect
ToolSelect is an unbiased community powered by its members that covers all aspects, types and brands of tools, but does not actually sell any tools. ToolSelect's members include everyone from experienced tradesmen to complete novices. Users trade tips, compare notes, debate their favorite tools and work together to help each other make intelligent purchasing decisions.
###