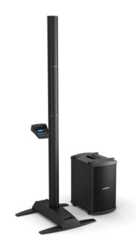 "[The Bose L1 Model II features]ease of use and incredible sound. Whether standing directly in front of the stage or off to the side the sound remains the same."
-Joe, AMS Customer
Oakland, N.J. (PRWEB) May 01, 2013
Performers have their own favorite setups that they use to get the sound they're looking for, and many musicians rely on the solid build and famed sound of QSC speakers and monitors to meet and exceed the expectations of their audience. Musicians work hard to ensure that their fans aren't let down by their performance, and AMS works tirelessly to support those musicians by putting high quality brands such as QSC within their reach.
Throughout the years Bose has earned a reputation for being one of the preeminent live sound providers in the industry with their cutting edge technology and fine quality. However, many musicians have long considered Bose products an unaffordable luxury. That was before AMS presented these musicians with the chance to take advantage of their 12 Easy Payment Plans, which make owning top of the line musical equipment financially feasible with one small monthly payment. Below is an example of how AMS' 12 Easy Payments option may help bands get every member of their group a Bose system.
--------------------------------------------------------------------
AMS Price of Bose L1 Model II System Single B2 Bass with ToneMatch Audio Engine: $3,198.00
AMS 8-Month Payments: $399.75
AMS Limited-Time 12 Month Payments: $266.50
--------------------------------------------------------------------
The beauty of 12 Easy Payments from AMS is the ability to shrink a large amount of money into one payment that fits right into a blue collar musician's monthly budget. This gives artists the opportunity to make a big splash with their music, while making a safe financial decision based on their individual budgets. Finally the Bose and QSC equipment they have lusted over is right at their fingertips.
Musicians should only be limited by their abilities, not by how expensive of equipment they can afford. Artists may help maximize their skill and creativity by investing in their musical talents, and it's hard to imagine a better time for bands and individual performers to upgrade their setups to include some of the top live sound options in the industry. For more information on AMS' 12 Easy Payments or Bose and QSC products please visit the American Musical Supply website.
###
Located in Oakland, New Jersey, American Musical Supply is a leading online merchant of professional and affordable musical equipment and supplies including guitars, amplifiers, live sound, DJ gear and more. AMS offers award-winning customer service and the AmericanMusical.com website has also been ranked in Internet Retailer's top 500 e-retailing businesses.