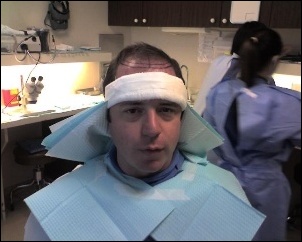 (PRWEB) December 29, 2006
Seth Garon, of Portland, Oregon, was all too familiar with male pattern baldness, as evidenced by the continuing growth of his bald spot and receding hair line. However, it was Garon's family albums that provided the dimmest forecast of his increasingly thinning future, with his father and grandfather both suffering from hair loss.
But instead of succumbing to his genetically predetermined fate, Garon faced his balding scalp head-on.
On July 5, 2006, Garon underwent hair restoration at the Bosley Medical Seattle Office, and he has written a daily blog about his experiences with the Bosley procedure, hair transplant recovery, and hair regrowth process.
Garon blogs on everything from the Guinness Book of World Record's longest hair to some of the medical causes for hair loss, and his own personal journey to restore his hair loss.
The Battle Against Bald can be found at http://www.battleagainstbald.com.
About Bosley
Bosley Medical is a world leader in hair replacement and medical hair restoration, having performed almost 200,000 hair transplant procedures on men and women from 60 different nations who suffered from hair loss and progressive baldness. You can learn more about Bosley hair replacement techniques at http://www.Bosley.com. Spanish and Japanese language versions are available at Bosley Medical Espanol and Bosley Medical Japanese, respectively, along with a Bosley hair replacement office in Japan itself. Bosley hair loss replacement offices are available in most major US cities as well as Canada and Mexico.