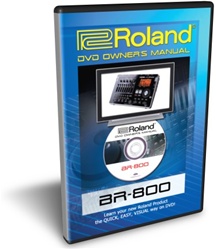 Denver, CO (PRWEB) August 25, 2011
A new training DVD aimed at helping musicians understand their Boss BR-800 has just been released by ProAudioDVDs.com, the frontrunner in instructional DVDs for musicians and studio owners. Details of the Boss BR-800 DVD can be found here.
This DVD tutorial is not only a review of all the functions and features of the Boss BR-800, it's also like an updated visual version of the owner's manual hosted by veteran trainer David Wills.
"I wanted to explain all of the cool things that the Boss BR-800 can do, but also demonstrate a ton of features that aren't expanded on in the user manual," said David Wills, owner or ProAudioDVDs.com.
"The Boss BR-800 has so many powerful features that most people are only using a small fraction of what it can do. In this DVD we go through everything.
"My goal is to make it like you have a private consultation on all the features of the Boss BR-800 and to quickly bring you up to speed on the entire unit. Why review the whole user manual when you can get quick up-close visual training on specific subjects?"
The Boss BR-800 has gained so much interest from people who are on the fence of whether they want to record to hardware or software. While the unit is an excellent hardware recorder, it is equally at home as a USB audio interface or surface controller. This DVD is over 2.5 hours long with many demonstrations of both sides of the unit.
David Wills has produced over 50 training DVDs in the nearly 20 years since he launched ProAudioDVDs.com. As an Audio Engineer and Consultant for artists such as Michael Jackson, Phil Collins, Earth, Wind & Fire and Diana Ross, David brings real world experience from the pro world but in any easy going conversational style of presentation.
The DVD covers the following:
INTRODUCTION
Features
Front panel Overview
Adjusting the Touch Sensors
Rear panel Overview
YOUR FIRST RECORDING
Creating a Song
What is Multitracking?
Selecting an Input
Input types and Phantom Power
Setting levels
Adding Insert Effects
Recording with a metronome
Example 1:Guitar track
Example 2:Bass Guitar overdub
Using Microphones
Punching In
Using V-Tracks
Song Sketch
EZ Record
Bouncing tracks
RHYTHM SECTION
Selecting Patterns/Arrangements
"What is an Arrangement?"
Editing Arrangements
Replacing click tracks
Drum Kits
EDITING
Track Edits
...Copy
...Erase
Song Sketch Import
MIXING
Importance of good Monitors
Loading up the Demo Song
Protecting Songs
...Fader Levels
...Pan
...EQ
...Reberb
...Chorus/Delay
Mixing
Mastering
Mastering Effects
USB FUNCTIONS
Overview
Using as an I/O (In and Out Device)
Using as a Control Surface
The Rhythm Editor
Transferring Tracks and Files
GRADUATION
Utility Screens
System Settings
Initialization Screens
http://www.proaudiodvds.com/Roland-Boss-BR-800-Review-DVD-Video-Training-p/br-800.htm
About ProAudioDVDs.com
Founded in 1992, ProAudioDVDs.com has produced over 50 training DVDs on the operation of music production equipment. Partnered with industry leaders such as Roland, Tascam, Korg & Zoom, it is celebrating nearly 20 years of being a market leader in product training resources for recording and live musicians.
###