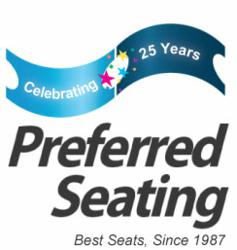 "Unless it's a blowout by one team another it's much more likely ticket prices will go up rather than down, says Greg Cullen of Preferred Seating. "And with a full refund for any games not played the fans can't go wrong."
Sacramento, CA (PRWEB) June 21, 2013
Fans looking for deals for Boston Bruins tickets for game 6 of the Stanley Cup Finals won't be finding them at TD Garden with the potential series winning game on the line. Preferred Seating Tickets has seen a dramatic spike in demand for the NHL Finals online at PreferredSeat.com with the highest ticket prices going to a potential game 6 at TD Garden in Boston and game 7 at the United Center in Chicago on Wednesday. Chicago Blackhawks tickets for the home game on Saturday are close to $400 each but that's a bargain compared to the games that follow.
When you combine two competitive teams and a few overtime games in the NHL Finals then that adds up to a frenzy for the remaining game tickets on the secondary ticket market. Currently, Preferred Seating Tickets are seeing Boston Bruins tickets priced for Monday's game at the Garden running almost double those for Saturday night in Chicago. Wednesday night's win in overtime by the Blackhawks only fueled the fire for Boston fans who believe Game 6 will be the deciding game of the series pending a win on Saturday.
For sports ticket sellers like Preferred Seating Tickets, the 2013 Stanley Cup Finals have been a boom to sales with every NHL Finals game that ends in overtime. The Bruins and Hawks are tied at two games apiece and as of Thursday afternoon, Chicago Blackhawks tickets were running just over $300 each for standing room only seats for Saturday's game 5. But with each remaining game, the ticket prices go up as last minute ticket buyers pay the price for not locking them in earlier in the series.
More often than not the best time to buy the final two games of any sports championship series games will be before the first game of the series even begins. "Unless it's a blowout by one team another it's much more likely ticket prices will go up rather than down, says Greg Cullen of Preferred Seating. "And with a full refund for any games not played the fans can't go wrong."
Boston Bruins ticket prices may be at an all-time high for their game 6 on Monday with tickets starting at over $750 per seat. The best seats at TD Garden will set a die-hard fan back several thousand dollars for each ticket but the real test for team support comes in game 7 at the United Center next Wednesday. If the teams tie up again on Monday in Boston then fans may have to shell out even more for the chance to see the celebration in person.
Fans often wonder how NHL Finals ticket prices can reach such high levels. At Preferred Seating they ask fans to put themselves in the shoes of long-time fans with all the investment in the team, and being asked to give up their seat for the game of a lifetime. A majority say they would never sell their tickets for any price. And that, we tell them, is why ticket prices are not cheap.
Preferred Seating Tickets is an independent ticket service not affiliated with the NHL, any team, venue nor Ticketmaster.com. Since 1987, Preferred Seating has served as a middleman between concerts, sports and theater season ticket holders and the fans looking for a chance to sit in the best seats. All Boston Bruins tickets and Chicago Blackhawks tickets are guaranteed 100%.