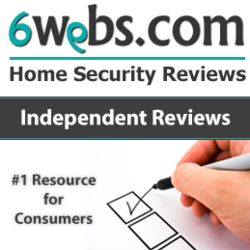 Compare the leading home security companies online at 6Webs.com, the number one resource for independent home security reviews.
Boston, MA (PRWEB) February 28, 2013
6Webs.com, the leading provider for independent home security system reviews, released their rankings for the best security system companies in the state of Massachusetts. The independent security reviews site is going state-by-state and releasing their rankings in order to help consumers make a decision on purchasing the best security system for their family.
For consumers who are interested in viewing the national results of the best home security companies, please visit 6Webs.com at:
http://www.6Webs.com/best-home-security-systems/
According to Tim Smythe, the senior editor for 6Webs.com, "There are two types of home security shoppers that we see in the market - those who install the systems themselves and those who would prefer having a professional installer. Luckily, in the top rated companies there are two companies who cater to both audiences. FrontPoint Security provides an easy to install, wireless home security system. ADT on the other hand offers professional installation services for all of their systems. One method of installation isn't better than the other it really comes down to what the customer prefers."
While conducting the Massachusetts home security reviews the 6Webs.com team discovered the most important aspect to home security shoppers is the that home security systems provide monitoring for fire and carbon monoxide as well as intrusion. Carbon monoxide sensors are available from all of the top ranked companies and so are fire/smoke/heat sensors. This 360 degrees of monitoring is preferred by most homeowners especially when it is tied into a 24/7 home security monitoring service.
An equally important aspect to consumers is selecting a home security company that offers cellular monitoring services. Cellular monitoring services are safer and the home security system cannot be circumvented by simply snipping the lines outside the home, compared to a phone line or Internet-based home security system. Cellular home security monitoring services use a reliable GSM signal to communicate from the home security system to the home security company's central monitoring station.
About 6Webs.com
6Webs.com is dedicated to educating consumers on home security and providing them with independent information of the top home security systems companies in the nation. 6Webs.com produces reviews and ranking on both a national and state level. Consumers can read unbiased Protect America reviews or ADT Security reviews of any of the popular home security monitoring companies via their website at 6Webs.com