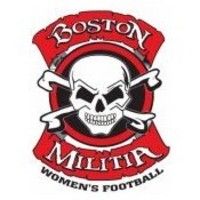 The Militia went undefeated (8-0) in the regular season and continued their domination in the field to win the North East Division and the Eastern Conference Championship. To be able to add the title 'World Champions' to this perfect season is just incredible
Norwood, MA (Vocus) July 29, 2010
The Boston Militia, the professional women's full tackle football team, is the 2010 IWFL World Champions! The Boston Militia blew The Sacramento Sirens, out of the stadium with a resounding 39-7 Victory this past Saturday night (July 24th) in Red Rock, Texas! The 'Ladies of the Gridiron' had a perfect Season leading up to this incredible victory. "The Militia went undefeated (8-0) in the regular season and continued their domination in the field to win the North East Division and the Eastern Conference Championship. To be able to add the title 'World Champions' to this perfect season is just incredible," stated Team Owner, Ernie Boch Jr.
Boston Militia QB Allison Cahill led the team in this explosive game. "Winning the 2010 IWFL Championship was the perfect ending to our journey. We are so proud and excited to bring the trophy home to MA and to honor the women who came before us and helped pave the way for this Winning Season," emphasized QB Allison Cahill.
Boston Militia's Head Coach Derrick Beasley and 12 of his players made the All Star Team 2010. "As Head Coach of this team of dedicated players, I couldn't be more proud of their achievements on the playing field this Season. We train hard as a team and we play hard as a team. To have won the World Championship Title in just 3 seasons in the league is a true testament to how great these women play the game of football." emphasized Coach Beasley.
About Boston Militia Women's Football:
The Boston Militia professional women's football team was formed in 2007.
The team is owned by businessman Ernie Boch Jr. The Boston Rampage and Massachusetts Mutiny both ceased operations and united as the Boston Militia for the 2008 season. The move to unite two strong teams to one created a true powerhouse in the sport of women's football. For more information on the Boston Militia please visit http://www.bostonmilitia.com or fan us on the Boston Militia Facebook page.
###