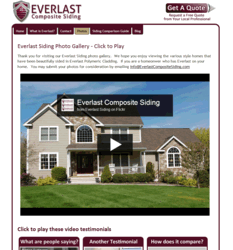 "it's an interactive world we live in," and " it's more important than ever to give customers the opportunity to share about their experience."
(PRWEB) May 14, 2011
Homeowners inquiring about Everlast Composite Siding frequently request to see photos of different style houses clad with Everlast. In May of 2011 Everlast Composite Siding launched a new Siding Photo Gallery on EverlastCompositeSiding.com. The staff at Everlast feels it's vitally important to clearly distinguish their product as one of the premier alternatives to vinyl siding and other siding options and having a well-polished online gallery is a must. The goal moving forward is to continually add new siding photos of homes with Everlast. "Siding is the most visible aspect of your home's exterior. Many people exploring siding alternatives want the option of viewing photos and video of completed homes before they even discuss the project with a professional."
In addition to their own efforts, Everlast Composite Siding is encouraging homeowners to submit their own siding replacement project photos for consideration stating that "it's an interactive world we live in," and " it's more important than ever to give customers the opportunity to share about their experience." With rapidly growing home internet use, brick-and-mortar showrooms are quickly loosing foot traffic. The quality and speed of data transference has made the average home computer a great tool for researching new products by viewing high quality photos and video. The staff at Everlast Composite Siding finds there's greater reach with online media than a physical showroom, and will continue to invest in video and siding project photos.
The folks at Everlast are proud to show off their beautiful siding. They feel along with it's exceptionally low-maintenance qualities the look and texture of Everlast are the greatest features. "Some types of siding aren't very photogenic. It takes a creative eye to photograph vinyl siding in such a way that all the overlapped seams are hidden. Other products have such a glossy finish you need a cloudy day to get a flattering picture."
To view the Everlast Siding Photo Gallery visit: EverlastCompositeSiding.com/siding-photo-gallery
Everlast Composite Siding is an experienced siding contractor located in New England. Featuring Everlast Polymeric Cladding, distributed by Norandex Building Materials Distribution Inc., the staff at Everlast Composite Siding are passionate about rejuvenating old homes with low-maintenance but beuatiful products. Homeowners in search of siding contractors in Boston can visit EverlastSidingNewEngland.com for more information.
# # #