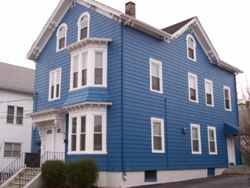 Since the product is one of the more difficult to install, it's important for us to have the best people overseeing the operation
(PRWEB) July 18, 2011
Bob Grici has over 20 years of relevant experience in the residential renovation business and will add a measure of expertise and knowledge to the United Home Experts staff. "Even though we have hands-down the most experience installing fiber cement siding in the area, there are other siding contractors in Boston now offering fiber cement. Since the product is one of the more difficult to install, it's important for us to have the best people overseeing the operation. Bob will be a great addition to our team," said Larry Probst of United Home Experts.
On average United Home Experts installs fiber cement siding on over 100 houses per year in addition to other home renovation services. "There are countless choices for contractors in Boston. It's important for us to differentiate ourselves by offering the best quality products and having top-notch employees overseeing the process from start to finish," said Mike Dudley of United Home Experts.
Management at United Home Experts believes the increase in requests for fiber cement siding is due to a combination of factors. The quality of cedar clapboard has steadily declined as the price has also increased. Many homeowners in New England don't prefer the look of vinyl siding so fiber cement seems to be picking up some of the market share in the New England region. Busier lifestyles mean people are less interested in the maintenance that comes with wood siding. The combination of these and other factors has increased the demand for fiber cement in the North East. United Home Experts hired Bob Grici because of his experience not only with siding but also a range of other products including windows, painting and roofing.
United Home Experts offers Exterior Home Improvement Services to Eastern Massachusetts, Rhode Island, and Southern New Hampshire. A family owned and operated company, United Home Experts is determined to provide homeowners low maintenance and energy efficient products that also add curb appeal. Visit their main website at http://www.UnitedHomeExperts.com/
###