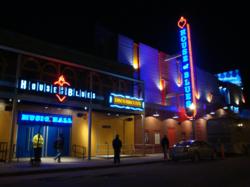 Looking for some Valentine's Day inspiration? Boston ticket vendor AniceTicket.com is showing some love with a list of 8 great picks.
Boston, MA (PRWEB) February 07, 2013
Whether one has procrastinated in making Valentine's Day plans or is just in need of a little inspiration, have no fear. Boston ticket vendor AniceTicket.com has compiled a list of things to do in the Boston area to celebrate this Valentine's Day all week and weekend long.
Here are our top 8 picks:
1.Proactive Bostonians can get a head start on Valentine's festivities by surprising their sports fan sweetie with an unexpected early sports date! Boston Bruins tickets for the game against the New York Rangers at TD Garden on Tuesday, February 12 would be a great pre-holiday outing.
2.Or what about a courtside 'Valentine's Eve' date to see the Boston Celtics play the Chicago Bulls Wednesday, February 13?
3.Another option for the 'night before Valentine's' is an evening at the theater to see Jersey Boys, the Tony Award-winning jukebox musical about the formation, success and break-up of the 1960s rock 'n roll group, The Four Seasons. Jersey Boys is underway at the Colonial Theatre on Wednesday, February 13 and every evening through the weekend.
4.Also on the theater scene, for those who like comedy, is the Blue Man Group, performing at Charles Playhouse on Valentine's Day (Thursday) and throughout the weekend. With three shows on Sunday, the 2 pm Blue Man Group performance would be a great idea to pair with Sunday brunch. (Here's a list of some great places to brunch in the city).
5.On February 14, those seeking a laid back time with food and good music should consider tickets to Big Head Todd & the Monsters at Boston House of Blues.
6.Looking for something more fancy and romantic? On February 14th legendary singer Tony Bennett will be serenading the night away at Boston Opera House.
7.For those who may have kids as their special Valentine, Disney on Ice: Rockin' Ever After is in town and makes a fun daytime family date. The ice show, featuring favorite Disney characters, is happening Friday, Saturday and Sunday at TD Garden.
8.Last but not least, for any sports fans, socialites or jet setters looking for a quick getaway, tickets to NBA All Star Game in Houston would make an impressive Valentine's Day gift and would be showing lots of love!
For more ideas on things to do for Boston Valentine's Day 2013 or to purchase Boston Celtics tickets, Boston Bruins tickets or Boston Blue Man Group tickets at below box office prices, check out http://www.AniceTicket.com.
About A Nice Ticket:
A one stop shop for live entertainment and events, A Nice Ticket offers premium and sold-out seats to concerts, sports and theater events nationwide, including-Boston Bruins tickets, Red Sox tickets, Boston Celtics tickets, New England Patriot tickets, and concert tickets in Boston. A Nice Ticket guarantees customers a completely secure buying process. Buy with confidence under our guarantee: if you don't acquire tickets in time, you get your money back. We also issue refunds for cancelled events with no reschedule date.