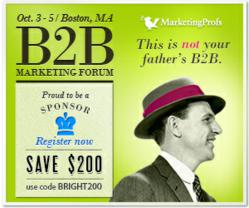 Boston, USA (PRWEB) September 20, 2012
BrightCarbon will be a part of MarketingProfs' 6th Annual B2B Marketing Forum. The B2B Forum looks to the future of marketing and is aimed at marketing professional who are interested in new practices and techniques within their field.
As BrightCarbon are exhibiting at the B2B Forum, they are looking to meet US companies who want to improve their sales and marketing presentations. During the forum BrightCarbon will be giving away places for free presentation and advanced PowerPoint training to be held in Boston in November.
At B2B Forum, you can gain skills and insight into what works for marketers today—and what you need to do to prepare for tomorrow.
Join BrightCarbon in Boston this October for:

Five tracks covering: lead gen, social media, mobile, content, and the oft overlooked marketing essentials.
Pitch presentations vetted by MarketingProfs' programming team, featuring real lessons from real companies.
Speakers who are smart, fun, and accessible.
Keynotes, including opening day learning and laughter.
Thoroughly therapeutic B2B counseling during one-on-one sessions with excellent experts.
No-fail networking from beginning to end.
A price that makes the B2B Forum the smartest conference choice for sensible budgets.
Registration for the conference costs $1,595, reduced to $1,395 with the promo code BRIGHT200.
About BrightCarbon
BrightCarbon helps sales and marketing teams hit their numbers, by offering a full range of presentation services and B2B sales tools. BrightCarbon also runs advance PowerPoint training for sales people, and provides pitch presentations support to clients for their important deals.
BrightCarbon helps companies to tell their stories elegantly and visually. With BrightCarbon:
Sales representatives stop wasting time creating their own collateral, and become more productive
Training is more effective, and easier to deliver
Presentations become visual and more effective
BrightCarbon also offers a complete presentation & slide design outsourcing helpdesk service for companies without a dedicated presentation department.
BrightCarbon has offices in the UK and Singapore.