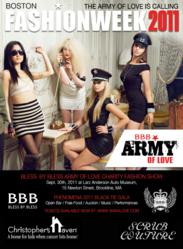 As a direct result of fundraisers such as these, kids with cancer will be staying at Christopher's Haven. It is a precious resource for kids and their families under going cancer treatment for the 8 week period at Mass General Hospital
Boston, MA (PRWEB) September 19, 2011
Online Medical Uniform, Footwear and Instrument distributor Scrub Couture is sponsoring an event to benefit the local charity Christopher's Haven and fashion designer Bless Mazarura of Bless By Bless. The event will take place at the prestigious Larz Anderson Auto Museum in Brookline, MA. 100% of the proceeds from the event will be donated to Christopher's Haven, a charity that works with Mass General Hospital to provide free accommodation for children with cancer and their families during treatment.
Christopher's Haven was founded in 2011 by Dan Olsen, a local actor, singer-songwriter and three time cancer survivor. While receiving treatments at Massachusetts General Hospital, he met families struggling to care for a child battling cancer while also facing the staggering costs of extended stays near the hospital.
"As a direct result of fundraisers such as these, kids with cancer will be staying at Christopher's Haven. It is a precious resource for kids and their families under going brain cancer treatment and need housing in Boston for the 6-8 week period" says Dan Olsen, Christopher's Haven, Founder.
Scrub Couture is a distributor of fine medical scrubs, footwear, instruments and is proud to be a sponsor of this wonderful local charitable event.
# # #