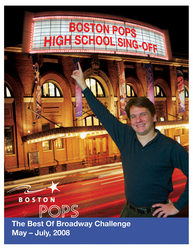 Boston Pops High School Sing-Off: A Best of Broadway Challenge
(PRWEB) January 24, 2008
Keith Lockhart and the Boston Pops will present the first-ever Boston Pops musical theater competition for Massachusetts high school students, "Boston Pops High School Sing-Off: A Best of Broadway Challenge," slated for the Pops' spring season in May and June 2008. The winner will be featured in the Boston Pops Fourth of July concert on the Charles River Esplanade. All required information and forms are available at http://www.BostonPops.org.
Students from high schools throughout the state of Massachusetts, working closely with their music and drama teachers, are encouraged to submit audition videos of musical theater vocal works for solo, duet, trio, quartet, or quintet to the Boston Pops anytime between now and May 9. The live portion of the competition will take place during four concerts in June, at which time the contestants will have their first chance to sing accompanied by the orchestra at a Pops concert at Symphony Hall.
Once the application process is completed (application available at BostonPops.org), a videotaped audition in one of 3 formats: DVD, VHS, or mini DV, is to be sent to the Boston Pops High School Sing-Off, 301 Massachusetts Avenue, Boston, MA, 02115, no later than May 9. There is a non-refundable $10 fee to audition for High School Sing-Off 2008.
Audio and video of Keith Lockhart announcing the competition is available at:
VIDEO
MPEG-2 can be downloaded at http://www.screencast.com/t/joIs5CN2
http://www.screencast.com/t/WJOjaE4Qy2 (MPEG-2 clip)
http://www.screencast.com/t/gj5OyvFo (MPEG-2 full)
http://www.screencast.com/t/Ni5R8a66SY (MOV full)
AUDIO
AN MP3 AUDIO FILE can be downloaded at http://www.screencast.com/t/b3Yasjxj
Press Contacts:
Bernadette Horgan (bhorgan @ bso.org) or Kathleen Drohan (kdrohan @ bso.org) at 617-638-9280
###