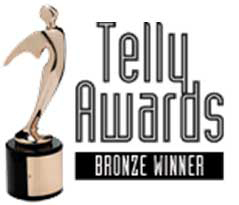 "This past year has been incredible for McElroy Films," extolled president and owner Benjamin J. McElroy. "We have been able expand every service we provide while still maintaining affordability without sacrificing the quality of video production."
Burlington, MA (PRWEB) March 1, 2011
A mere twenty minutes outside Boston, one company has further legitimized itself as one of the best choices for HD video production in Massachusetts and all of New England.
"This past year has been incredible for McElroy Films," extolled president and owner Benjamin J. McElroy. "We have been able expand every service we provide while still maintaining affordability without sacrificing the quality of video production."
With a Telly and a Davey awarded for excellence in emotional videos produced for Fenway Health and the South Shore Habitat for Humanity respectively, there is no doubt that quality products continue to emerge from Ben's growing video production company. McElroy Films' wedding division has also won praise having received the distinction of 'Best of the Knot for 2010' and has seen a 50% increase in bookings for 2011.
"It's very gratifying to be rewarded for the things my team and I do day in and day out. Focus on quality and great client communication and the awards will follow."
Accolades aside, McElroy Films reached a national level with the contribution of footage to a recent edition of ABC's World News Tonight with Dianne Sawyer. The story featured "Irish" Micky Ward, a Lowell Massachusetts native and the subject of the Academy Award-winning movie The Fighter.
"It was very thrilling to get a call from an ABC producer who was so impressed by footage from a Micky Ward documentary I made that he wanted to include it in the broadcast," McElroy expressed. "It's true what I've said all along: Everyone is looking for video on the web and careful placement on YouTube, internet search engines like Google and Bing, and sites like Facebook and Twitter can get your business noticed."
With more campaign money than ever is going toward TV ads and 83.5 percent of internet users in the U.S. actively viewing videos online, candidates need video to keep up in the modern political climate. Unlike most production companies with 'blanket budgets', Ben explained, McElroy Films will make sure every dollar is spent well with a line-by-line customizable budget.
"We produced two TV ads for the Jon Golnik congressional campaign this year. The ads were very strong and I'm hoping next election we will be able to use those videos and our previous work for the Work Force Fairness Institute to prove the power of video toward successful campaigns."
McElroy Films has also delved into educational videos in 2010, producing five vignettes detailing every department of the Fenn School in Concord, MA.
"Video can benefit anyone," Ben expounded. "But especially schools like Fenn who are trying to increase enrollment in new ways and show parents what their children are up to in a typical school day."
What will 2011 bring?
"2011 is already taking shape with fresh campaigns for both the CCFA's annual Team Challenge and the South Shore Habitat for Humanity's 25th Anniversary as well as several web vignettes for Fenway Health to promote a new HIV trial vaccine and there's more on the way."
To learn more about McElroy Films LLC, visit their website at http://mcelroyfilms.com, call (888) 303-2744 x703, or visit their new office at 101 Cambridge Street, Suite 300, Burlington, MA 01803.
About McElroy Films
McElroy Films LLC is a professional producer of high definition video for corporate, educational, non-profit, wedding, music video, and independent film use. Serving the Massachusetts and New England area, McElroy Films' mission is to keep high definition video affordable without sacrificing quality. Ben McElroy and his staff take pride in their client-first approach and personalized attention to every project. Recent corporate videography includes pieces for Fenn School in Concord, MA, the Crohn's and Colitis Foundation of America, Fenway Health, Astaro, the New England Pediatric Center, People Matter, Mass General Hospital, and the Habitat for Humanity.
###