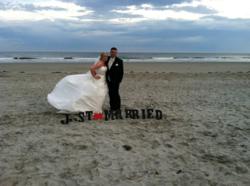 As professional videographers we film all over New England. Here's a short list of some of our favorites for 2013.
Boston, MA (PRWEB) June 12, 2013
Picking the perfect wedding venue may be a difficult task. With all the options out there, McElroy Weddings would like to recommend (in no particular order) these wonderful venues that we have had the pleasure to film our weddings at. Each is exceptional in their own way from traditional to rustic, you are sure to find the perfect New England venue from our list.
1. Kimball Jenkins Estate (Concord, NH)
Originally the private residence of a prominent Concord family, The Kimball Jenkins Estate is a beautiful setting to have your wedding. The mansion is graced with original Victorian details, and the simply yet elegant Carriage House and Gardens is also a more casual option to consider. From 30 to 300 guests, the Estate is perfect for any size wedding.
2. Charter Oak Country Club (Hudson, MA)
Charter Oak is a 38,000 sq. ft. traditional Georgian Style masterpiece. The exquisite manicured grounds and championship golf course provide you with the ultimate romantic atmosphere. Impeccable service and superb food in the opulent grand ballroom will make a day of elegance and perfection.
3. The Needles Lodge at Camp Kiwanee (Hanson, MA)
With its rustic beauty, Camp Kiwanee is a romantic and unique setting for your wedding celebration. At the heart of the camp, the Needles Lodge is available throughout the year and offers both indoor and outdoor function areas. Overlooking Maquan Pond and tucked under towering pine trees, the lodge provides a unique view and ambiance unlike any other.
4. Venus de Milo Restaurant (Swansea, MA)
For over five decades, families have trusted Venus de Milo with their most important events. From the extensive and affordable menus to the planning and execution of your reception, Venus de Milo has enjoyed a reputation built on outstanding food and service - unparalleled in southern New England! Awarded The Knot's Best of 2012 Weddings.
5. Wychmere Beach Club (Harwich Port, MA)
Have you always dreamed of saying, "I do" with your feet covered by warm beach sand? Or arriving to your reception on a boat? Longwood Events' beachside venue, Wychmere, captures the romance of a seaside wedding. Awarded The Knot's Best of 2013 Weddings.
6. Ocean Edge Resort and Golf Club (Brewster, MA)
Envision 400 lush acres including a historic 19th century Mansion complete with views of the sea and a private beach for wedding ceremonies. Impeccable service, sumptuous cuisine, elegantly appointed guestrooms and villas and Cape Cod's only Nicklaus Design golf course.
7. Willowdale Estate (Bradley Palmer State Park, Topsfield, MA)
Built in 1901 and originally the summer retreat of prominent Boston businessman Mr. Bradley Palmer, the ornate fieldstone mansion and luscious grounds - originally known as Willow Dale - were lovingly restored and enhanced with the addition of a Butterfly Garden and Tented Pavilion. Awarded The Knot's Best of 2010, 2011, 2013 Weddings.
8. Indian Pond Country Club (Kingston, MA)
Nestled in wooded conservation land, Indian Pond is a simply elegant venue. Enjoy the wall-of-windows overlooking the fountain pond, rolling hills, manicured ceremony sites and outdoor terraces. Indian Pond's Ballroom accommodates up to 420 guests. Indian Pond presents its newest wedding venue 'The Blackstones Room' accommodating up to 150 guests. Awarded The Knot's Best of 2008, 2009, 2012 2013 Weddings.
9. The Smith Barn (Peabody, MA)
The historic Smith Barn is situated on a picturesque hilltop surrounded by two hundred and fifty acres of orchards and conservation land. Located at the Felton-Smith Historic Site adjacent to Peabody's Brooksby Farm, the Smith Barn is the perfect setting for your special day. Rich in beauty and significance, the site represents over three centuries of the region's history and is home to several historic landmarks.
10. Royal Sonesta (Boston, MA)
With the Charles River and Boston skyline as your backdrop, the Royal Sonesta Boston Hotel offers gorgeous venues for spectacular riverfront weddings. Choose from elegant ballrooms, intimate suites and the newly available Riverfront Terrace for your wedding ceremony or reception from 100 to 430 guests.
About McElroy Weddings:
McElroy Weddings, a division of McElroy Films, is an award-winning high definition wedding videography and photography company serving all of Massachusetts and New England. Using excellent and experienced videographers, professional audio, and professional HD cameras such as Canon DSLRs, Sony EX, and Red Scarlet, McElroy Weddings guarantees top quality coverage of every aspect of your wedding day and beyond.
For more information call 1-888-203-2744 or visit http://www.mcelroyweddings.com.